FMCSA removes diabetes exemption for CMV drivers
Posted February 26, 2019
The Federal Motor Carrier Safety Administration (FMCSA) officially rescinded the exemption process affecting more than 4,700 medically certified commercial motor vehicle (CMV) drivers with insulin-treated diabetes mellitus (ITDM).
The exemptions, set up in 2003 and 2005, were declared no longer necessary following the establishment of a new rule published in the Federal Register on September 19, 2018. The revised standard allows certified medical examiners, in consultation with the driver's treating clinician, to evaluate and determine whether to grant an ITDM driver a medical examiner's certificate (MEC) to drive a CMV in interstate commerce.
The exemption was removed starting February 21, 2019. Drivers could begin the process of obtaining MECs on November 19, 2018.
Diabetes exemptions under the program are issued for two years, but exemption holders must be medically certified by a certified medical examiner and issued an MEC annually. Any MEC that was obtained under an exemption when the final rule became effective in November 2018 will remain in effect until the MEC expires or is replaced by an MEC issued under the new standard.
Prior to its expiration, a new MEC must be issued under the new standard to operate a CMV. FMCSA will direct certified medical examiners to cease issuing MECs under the exemption program on or after the date of this withdrawal notice.
---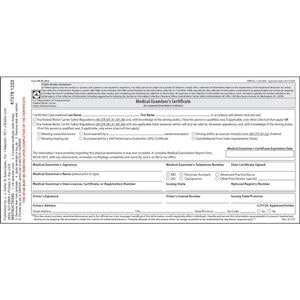 J. J. Keller's Medical Examination Certificate - Laminated helps you comply with 49 CFR §391.43 DOT medical card requirements.
---
J. J. Keller's FREE Transportation SafetyClicks™ email newsletter brings quick-read safety and compliance news right to your email box.
Sign up to receive Transport SafetyClicks™.