$1.5 million for nursing accommodation failure
Posted February 25, 2019
Emily Employee was an assistant manager at a fast-food restaurant. Having recently given birth, she requested that she be allowed to pump her breast milk at work. While the employer took some small steps to allow for the pumping, it stopped short of actually complying with the related regulations.
The employer missteps included the following:
While Emily wanted to pump every two hours, her supervisor allowed her to pump only once during her 10-hour shifts.
She was initially required to pump her milk in a bathroom.
From there, she was allowed to pump in an office that had a camera that could not be turned off, and a window through which her coworkers could — and did — observe her pumping. A male coworker was caught watching Emily on two occasions while she pumped.
On multiple occasions, another male coworker used his keys to enter the office while Emily was pumping.
Her supervisor did paperwork in the office while Emily pumped.
Coworkers complained about her pumping, which led to Emily being transferred to a different store and her pay was cut.
At the new location, Emily was forced to pump in an office with a camera and a window, where she was seen by others.
Emily's hours were cut so she would have more time to pump.
Employees under Emily's supervision were insubordinate to her because they resented the time she spent pumping.
Emily's supervisor discouraged her from pumping, characterizing it as a "huge issue."
Emily was eventually taken to task because it was thought she stole a customer's jacket. Emily argued that she took the jacket by mistake. Instead of being fired, she quit and filed a claim.
The court did not look kindly on the employer's missteps, indicating that it created a hostile work environment, and constructively discharged Emily because of her need to express her breast milk. The employer was on the hook for $1.5 million.
The Fair Labor Standards Act (FLSA) requires employers to provide reasonable break time (as frequently as needed) for a non-exempt employee to express breast milk for her nursing child for one year after the child's birth each time such employee has need to express the milk. Employers are also required to provide a place, other than a bathroom, that is shielded from view and free from intrusion from coworkers and the public, which may be used by an employee to express breast milk. Employers with fewer than 50 employees are not subject to the FLSA break time requirement if compliance with the provision would impose an undue hardship.
The case provides a good reminder of the FLSA's nursing provisions and the potential repercussions of failing to address accommodations properly.
Lampkins v. Mitra QSR, LLC et al., District Court of Delaware, No. 16-647, November 28, 2018
This article was written by Darlene M. Clabault, SHRM-CP, PHR, CLMS of J. J. Keller & Associates, Inc.
---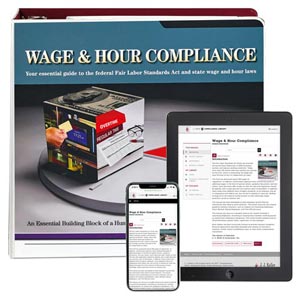 J. J. Keller's Wage and Hour Compliance with FLSA Manual provides critical info to help you comply with the Fair Labor Standards Act (FLSA) and state wage and hour laws.
---
J. J. Keller's FREE HR SafetyClicks™ email newsletter brings quick-read safety and compliance news right to your email box.