Study examines ways to enhance sleep quality for truckers
Posted February 23, 2018
A recent study on worker health by the National Institute for Occupational Safety and Health (NIOSH) addresses inadequate sleep for long-distance commercial drivers.
The NIOSH Total Worker Health® Program takes into consideration the many factors that affect a worker's safety and health. In addition to tangible work-related risks, such as handling hazardous chemicals or operating heavy machinery, the study examines other circumstances, including wages, workload, stress, worker-employer relationships, and adequate sleep.
NIOSH reports that inadequate sleep can be a problem for long-distance truck drivers. Motor carriers use team drivers to help mitigate the risk of driver fatigue. Pairing drivers allows one to rest in the sleeper berth as the other operates the commercial vehicle. But, NIOSH found that this arrangement is not as restful as sleeping in a stationary bed in a quiet room.
The resulting driver fatigue may:
Affect work performance and health, and
Contribute to chronic health conditions (e.g., obesity and diabetes).
Improving sleep quality
The Oregon Health & Science University and the University of Washington, in a joint effort, are currently studying ways to improve sleep quality for truck drivers.
The collaborative research, Tech4Rest Study, is taking the following two-pronged approach to the problem:
Effects of an enhanced truck cab, which equips the vehicle with a therapeutic mattress system and an active suspension seat to reduce whole body vibrations during driving and sleep periods.
Behavioral sleep health program, Fit4Sleep, which tests different interventions, such as physical activity, sleep training, and health coaching.
Learn more about NIOSH's Total Worker Health.
---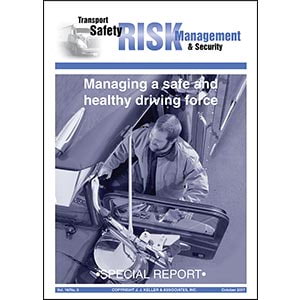 J. J. Keller's Special Report - Managing a Safe and Healthy Driving Force helps transport safety managers understand the symbiotic relationship between health and safety, and how important both of these areas are to managing transport teams.
---
J. J. Keller's FREE Transportation SafetyClicks™ email newsletter brings quick-read safety and compliance news right to your email box.