OSHA provides prevention tips for five common tree care hazards
Posted February 16, 2018
A new OSHA publication raises awareness about hazards confronting workers in the tree care industry. The guidance illustrates solutions for five common tree care hazards, including:
Traffic control,
Drop zones,
Wood chippers,
Aerial lifts, and
Power lines.
Tree care work is often conducted near moving vehicles and pedestrians, which can pose hazards to workers and the public. Among other things, OSHA recommends employers train workers on traffic zone safety and site setup, use barricades and flaggers to guide vehicles and pedestrian traffic through or around traffic zones, and ensure visibility by wearing high-visibility vests and using lights at night.
Drop zones are areas where trees, tree limbs, and hand tools could fall and strike a worker. Prevention tips include using cones or other barriers to mark and manage the drop zone, training workers on drop zone entry and exit procedures, and wearing appropriate protection, such as hard hats and eye protection.
Wood chippers present hazards when workers manually push material into the chipper hopper. Workers can be injured by material thrown from the chipper and from hazardous noise levels. OSHA says employers should train workers to inspect and operate chippers properly, ensure safety guards, controls, and emergency shut-off devices are functioning, stand to the side of the chipper when feeding materials, and wear the proper personal protective equipment.
With aerial lifts, the major causes of injuries and fatalities are falls, electrocutions, and equipment collapses or tip-overs. Among other precautions, employers must train workers to follow the manufacturer's instructions, allow only qualified and trained workers to operate aerial lifts, inspect the lift and worksite before each use, and make sure outriggers are set on pads or on level, solid surfaces. In addition, workers should use body harnesses or restraining belts with a lanyard attached to the bucket.
Power lines present electrocution hazards to workers who have contact with them while performing tree care operations. Prevention tips include training workers to identify and avoid power line hazards, assuming all overhead power lines and communication cables are energized, providing proper personal protection, and not using metal ladders near power lines.
---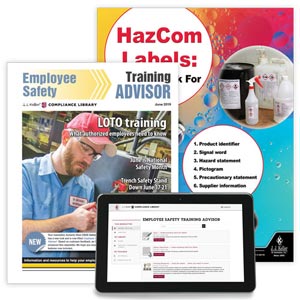 J. J. Keller's OSHA Safety Training Newsletter helps you improve your training techniques and meet OSHA requirements.
---
J. J. Keller's FREE Workplace SafetyClicks™ email newsletter brings quick-read workplace safety and compliance news right to your email box.