OSHA delays effective date of beryllium rule
Posted February 7, 2017
In the February 1, 2017, Federal Register, OSHA announced it is delaying the effective date of the final rule titled, "Occupational Exposure to Beryllium." This action responds to the Presidential directive expressed in the January 20, 2017, memorandum issued by the White House Chief of Staff requesting federal agencies freeze ongoing rulemakings. The delay provides time for OSHA officials to review the new regulations.
OSHA's beryllium regulations were published in the January 9, 2017, Federal Register, with an effective date of March 10, 2017. The new effective date is March 21, 2017.
The Agency says it did not seek public comments on extending the effective date of the rule because it is only delaying the effective date by 11 days. OSHA also points out that this action does not impact compliance dates within the rule.
Final Rule
The Occupational Exposure to Beryllium rule amends existing standards for exposures to beryllium and beryllium compounds in the workplace. The rule establishes new permissible exposure limits (PELs) of 0.2 micrograms of beryllium per cubic meter of air as an 8-hour time-weighted -average and 2.0 micrograms per cubic meter of air as a short-term exposure limit determined over a sampling period of 15 minutes. Other provisions within the rule include requirements for exposure assessments, methods for controlling exposures, respiratory protection, personal protective clothing and equipment, housekeeping, medical surveillance, hazard communication, and recordkeeping.
OSHA issued three separate standards — for general industry, shipyards, and construction — to better tailor the requirements for the specific circumstances in these sectors.
Compliance dates
All the requirements in the rule become enforceable on March 12, 2018 except:
Change rooms and showers required by the rule must be provided by March 11, 2019, and
Engineering controls in the standard must be implemented by March 10, 2020.
---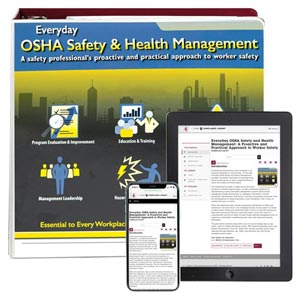 J. J. Keller's Everyday OSHA Safety & Health Management Manual provides "how-to" guidance and tools on a wide range of workplace health and safety issues.
---
J. J. Keller's FREE Workplace SafetyClicks™ email newsletter brings quick-read workplace safety and compliance news right to your email box.