NTSB finds fatigue, HOS violations led to fatal Illinois accident
Posted February 12, 2016
On February 9, the National Transportation Safety Board (NTSB) announced that the probable cause of a fatal January 2014 crash near Naperville, Illinois, was a truck driver's delayed reaction caused by fatigue.
One person died and two people, including an Illinois State Police officer, were seriously injured when a truck-tractor struck emergency vehicles stopped in the right lane of Interstate 88 while assisting a disabled tractor trailer.
The NTSB found in addition to the driver's fatigue, caused by inadequate sleep, the failure of the carrier to ensure that its driver adhered to federal hours-of-service (HOS) regulations contributed to the crash. Also contributing, the NTSB found, was inadequate safety oversight by the Federal Motor Carrier Safety Administration.
In the crash, the truck, which was towing a flatbed trailer loaded with steel coils, first struck an Illinois State Police patrol car, pushing it off the road. Flames engulfed the patrol car, seriously injuring the police officer. The truck then crashed into a Highway Emergency Lane Patrol (HELP) truck, sandwiching it between the striking truck and the disabled tractor-trailer, fatally injuring the HELP truck driver. That impact then pushed the disabled tractor trailer into a heavy-duty tow truck.
NTSB investigators found that despite several clearly visible warning indicators on the roadway, the driver of the truck did not slow down or steer to avoid the stopped vehicles, and applied the brakes just one second before impact. NTSB investigators further determined that he had slept less than four and a half of the 37 hours preceding the crash.
According to NTSB, both carriers had longstanding records of inadequate safety behavior. The Federal Motor Carrier Safety Administration (FMCSA) classified both the carriers involved in this crash as high-risk carriers, meaning that their ratings in the Behavior Analysis and Safety Improvement Categories (BASICs), which the agency uses to assess carrier safety, were above certain established threshold levels.
NTSB Chairman Christopher A. Hart said, "High-risk carriers are a threat to all who use our roadways. Such carriers cannot be permitted to operate with impunity, as did the two carriers involved in this tragic and preventable accident. [The NTSB's] recommendations, if implemented, will expand the FMCSA's toolkit for ensuring that high risk carriers either conduct their businesses safely or cease operations."
---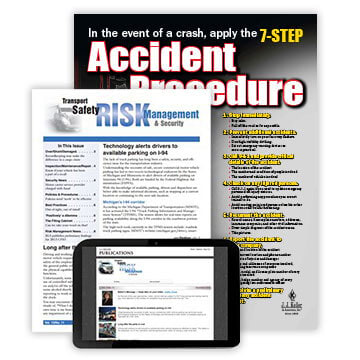 J. J. Keller's Transport Safety Risk Management & Security Newsletter keeps you up-to-date on the latest security and motor carrier safety risk management.
---
J. J. Keller's FREE Transportation SafetyClicks™ email newsletter brings quick-read safety and compliance news right to your email box.