FMLA might not protect condition-related job-performance issues
Posted February 12, 2016
Carmen was quite ambitious. In addition to working full time for one organization, she worked part time for a second. This resulted in situations in which she would work a 24-hour shift before showing up at her full-time job. It also seemed to play a part in Carmen's anxiety attacks. She took time off under the Family and Medical Leave Act (FMLA) for her condition, but returned to work. About a month after her return, the company met with her to discuss her job performance and mental health issues. Carmen was informed that her work performance was unsatisfactory for reasons such as an unprofessional demeanor and appearance, forgetfulness, and the need to have others complete her duties.
Carmen took more FMLA leave and before returning to work, she provided a fitness-for-duty certification, and met with company personnel. After the meeting, Carmen was terminated.
Carmen sued, arguing that the company failed to restore her to her prior position in spite of the fitness-for-duty certification. She claimed that, because the company knew about her job performance problems before she went on FMLA leave, it could not argue that her discharge was unrelated to her taking leave. In order to deny reinstatement, the employer would need to be unaware of the employee's problems before the employee went on leave.
The employer argued that Carmen was terminated for the reasons discussed in the earlier meeting when she returned from FMLA leave the first time.
The court sided with the employer, indicating that even if an employee's work-performance problems are related to the same illness that gave rise to FMLA leave, the employee may still be terminated based on her work-performance problems, regardless of the indirect causal link between the FMLA leave and the termination (or other adverse action).
The court handled Carmen's other arguments as follows:
Carmen: The company violated the FMLA by refusing to reinstate her despite her fitness-for-duty certification.
Court: Carmen mistakenly characterized the company's position as substituting its opinion on whether her condition was cured for that of her health care provider. The issue was not whether Carmen was fit for work, but whether the company's decision to terminate was based on her taking FMLA leave. The FMLA did not prohibit the company from terminating Carmen for the work deficiencies that resulted from those problems. The FMLA does not protect an employee from performance problems caused by the condition for which FMLA leave is taken, nor does it require that an employee be given a chance to show improved job performance when not ill.
Carmen: Because the FMLA requires that she be restored to her former job, the company had to allow her to continue working at her second job.
Court: The issue is not whether the second job interfered with her work, but whether the company terminated her because it sincerely, even if mistakenly, believed her work performance suffered because of her second job.
Carmen pointed to no evidence that her termination was related to her request for FMLA leave, so her argument failed. Her overarching argument that an employer violates the FMLA if it does not reinstate the employee, no matter what the reason, was incorrect.
Gabriel v. Colorado Mountain Medical, P.C., et al., 10th Circuit Court of Appeals, No. 15-1004, October 13, 2015.
This article was written by Darlene Clabault of J. J. Keller & Associates, Inc.
---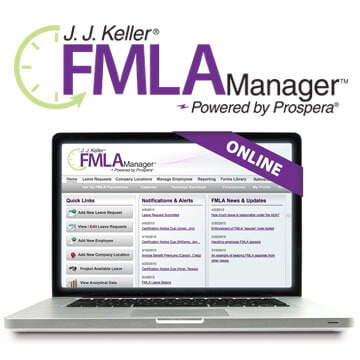 J. J. Keller® FMLA Manager™ Service makes leave tracking easier while complying with the latest federal & state regulations.
---
J. J. Keller's FREE HRClicks™ email newsletter brings quick-read human resources-related news right to your email inbox.