Nine PFAS added to TRI
Posted January 26, 2023
EPA automatically added nine per- and polyfluoroalkyl substances (PFAS) to the Toxics Release Inventory (TRI) list. Four PFAS were added since they are no longer claimed as confidential business information (CBI). EPA reviews CBI claims before adding PFAS to the TRI list if the chemical identity is subject to a claim of protection from disclosure.
In addition to that change, a 2020 provision states that PFAS should be automatically added to the TRI list upon EPA's finalization of a toxicity value. At the end of 2022, EPA finalized a toxicity value for Perfluorobutanoic acid (PFBA), its anion, and its related salts. Those five chemicals have thus been added to the TRI.
Relevant facilities should start tracking their activities involving these PFAS. This is required by Section 313 of the Emergency Planning and Community Right-to-Know Act.
This article was written by Jessica Stengel of J. J. Keller & Associates, Inc.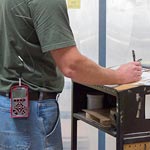 Looking for more on workplace safety?
Get the information and products you need to stay on top of industry changes and comply with regs.