U.S. vaccine mandate for cross-border truckers effective January 22
Posted January 21, 2022
The U.S. Department of Homeland Security (DHS) has announced it will require foreign national drivers, including drivers from Canada, to be fully vaccinated in order to enter the United States. The mandate is effective January 22.
The mandate requires foreign national drivers to be fully vaccinated before entering the United States. Fully vaccinated means at least a full 14 days have passed since the second dose of the two-dose vaccines or since the single dose of the Janssen/Johnson & Johnson vaccine.
Cross-border drivers entering the United States via land ports of entry or ferry terminals must provide proof of vaccination upon entry into the United States. COVID vaccination proof must contain:
Personal identifiers (full name plus at least one other identifier such as date of birth or passport number) that match the personal identifiers on the driver's passport or other travel documents;
Name of official source issuing the record (e.g., public health agency, government agency, or other authorized vaccine provider); and
Vaccine manufacturer and date(s) of vaccination.
This article was written by Heather Ness of J. J. Keller & Associates, Inc.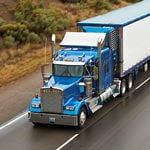 Looking for more on transportation safety?
Get the information and products you need to stay on top of industry changes and comply with regs.