OSHA withdraws COVID-19 ETS
Posted January 26, 2022
OSHA announced that effective January 26, 2022, it is withdrawing the November 5, 2021, emergency temporary standard (ETS) that required private employers with 100 or more employees to provide a vaccination or weekly testing option for COVID-19. This means employers no longer have to comply with the ETS; however, OSHA says it will continue to enforce the General Duty Clause.
The ETS served as a proposed rule and the comment period just ended this month. It is unlikely OSHA would publish a similar final rule, due to the imminent legal challenge it would surely face. Instead, the agency will focus rulemaking efforts on the healthcare permanent standard and will focus enforcement of the General Duty Clause and other existing standards for everyone else.
This article was written by Rachel Krubsack of J. J. Keller & Associates, Inc.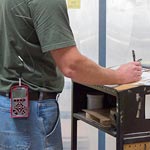 Looking for more on workplace safety?
Get the information and products you need to stay on top of industry changes and comply with regs.