Another vaccine mandate is put on pause
Posted January 26, 2022
On January 21, a federal judge in Texas put the requirement for federal employees to be vaccinated on hold. This is the third such federal requirement to be subjected to such an order.
Back in November 2021, the Office of Management and Budget shared that 96.5 percent of federal employees had at least one dose of a COVID-19 vaccination or had a pending or approved exception or extension request — with 92 percent of employees having received at least one COVID-19 vaccination dose. The federal government employs 3.5 million people.
What employers need to know
With all these mandates and their respective changes, employers might benefit from knowing where they currently stand.
Mandates NOT enforced:
OSHA ETS: Not currently being enforced, due to a recent ruling by the U.S. Supreme Court. Had it been enacted, the ETS would have required employers with 100 or more employees to vaccinate and/or test.
Federal contractor vaccine mandate: The vaccine mandate is not currently being enforced due to a nationwide injunction but could go to the U.S. Supreme Court. The injunction, however, applies only to the enforcement of the vaccine mandate. Federal contractors must still comply with the requirements relating to masking, social distancing, and designation of an individual to coordinate COVID-19 safety protocols.
Federal employee vaccine mandate: Not currently being enforced due to a preliminary nationwide injunction, which may be supplemented, modified, or vacated, depending on the course of ongoing litigation. An appeal was filed.
Mandate enforced:
CMS vaccine mandate for recipients of Medicare or Medicaid funds: Currently being enforced, as the U.S. Supreme Court ruled it valid.
The bottom line
The only group that currently needs to comply with a federal mandate is those who receive Medicare/Medicaid funds.
That doesn't mean that private employers are prohibited from having their own vaccine/test policy requirement. Unlike the federal mandates, courts have consistently upheld individual employer mandates. Employers, would, however, need to consider exceptions for medical or religious reasons.
Of course, states might have their own provisions, including those that prohibit vaccine mandates, so employers need to be aware of such laws.
This article was written by Darlene Clabault of J. J. Keller & Associates, Inc.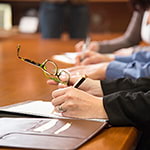 Looking for more on HR compliance?
Get the information and products you need to stay on top of industry changes and comply with regs.