Alternate vision standard final rule
Posted January 26, 2022
FMCSA published the alternative vision standard final rule with an effective date of March 22, 2022, for CMV drivers who do not meet the vision standard in the worse eye. If specified conditions and vision criteria are met, the driver can qualify for the vision portion of the DOT exam based on the vision in the better eye with or without corrective lenses.
To be qualified for the alternate vision standard (§391.44), the driver must:
Have in the better eye a field of vision of at least 70 degrees in the horizontal meridian and vision of at least 20/40 with or without corrective lenses;
Be able to recognize the colors of traffic signals with red, green, and amber;
Have a stable vision deficiency; and
Have had sufficient time for the vision deficiency to be stable.
To meet the alternate standard:
An ophthalmologist or optometrist evaluates the driver;
The ophthalmologist or optometrist completes the new Vision Evaluation Report Form MCSA-5871;
The certified medical examiner performs a DOT exam not more than 45 days from the date on the MCSA-5871 and determines if the driver meets the alternative vision standard, as well as FMCSA's other medical qualification standards;
The driver receives a Medical Examiner's Certificate (MEC), Form MCSA-5876, for a maximum of 12 months if determined to be medically qualified; and
Drivers qualified under the alternative vision standard for the first time must satisfactorily complete an employer-administered road test before operating in interstate commerce, subject to limited exceptions.
This final rule eliminates the need for the current federal vision exemption program and the grandfather provision in §391.64. Individuals currently qualified under the grandfather provision and exemption holders have one year after the effective date of this rule to comply.
This article was written by Mark Shedler of J. J. Keller & Associates, Inc.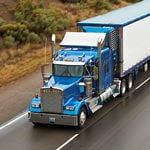 Looking for more on transportation safety?
Get the information and products you need to stay on top of industry changes and comply with regs.