Look back 12 months from when leave begins for 1,250-hour determination
Posted January 8, 2021
You may be one of many employers that use the calendar-year method to calculate the 12-month leave year period under the Family and Medical Leave Act (FMLA). When an employee requests leave early in the new leave year, you may wonder whether you may look at the previous 12-month leave year period (January 1 to December 31) as the basis during which an employee worked at least 1,250 hours. The answer is No. Let's set the stage: Employees may have chronic conditions for which they normally use all 12 weeks of FMLA each year. Such employees may request leave early in the new year. In such a situation, you would still calculate whether the employee met the 1,250 hours as of when the leave will begin, not the previous 12-month leave year period.
If, for example, on January 6, 2021 Emma Employee requested leave to begin February 15, 2021 you would see if she worked at least 1,250 hours between February 15, 2020 to February 15, 2021, not January 1, 2020 to December 31, 2020.
Remember, the 1,250-hour eligibility criterion is to be calculated from when the leave is to begin, not when the employee requests the leave. Emma asked for leave on January 6, but you would focus on February 15, when the leave is to begin.
So, friends, you need to look at each employee's situation on an individual basis and look back at the 12 months before his or her specific leave will begin.
As a related aside, in situations where an employee's condition spans multiple leave years, employees may, somewhat automatically, request the FMLA forms when a new leave year begins for leave they will likely take that year. The DOL, however, indicates that your FMLA obligations are not triggered by a request for potential leave. You are to wait until the employee puts you on notice of the actual need for leave. A date leave is needed should be included.
Happy 2021!
This article was written by Darlene Clabault of J. J. Keller & Associates, Inc.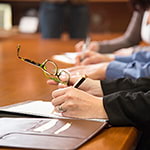 Looking for more on HR compliance?
Get the information and products you need to stay on top of industry changes and comply with regs.