Executive Order addresses worker protections from COVID-19
Posted January 25, 2021
As part of the new administration's efforts to slow the spread of COVID-19, President Joe Biden issued an Executive Order (EO) on January 21 addressing worker health and safety protections.
Specific actions in the EO include:
Determine if an Emergency Temporary Standard on COVID-19 is needed, and, if so, issue one by March 15, 2021. State-Plan states would have to do the same.
Launch a national program to focus OSHA enforcement efforts related to COVID-19 on violations that put the largest number of workers at serious risk.
Look for ways to cover state, county, and city government workers in non-State-Plan states, by using Department of Transportation (DOT) (e.g., for highway work) and other Federal government agencies to help ensure protections.
Review and strengthen all COVID-19 guidance documents OSHA issued for employers.
This article was written by Rachel Krubsack of J. J. Keller & Associates, Inc.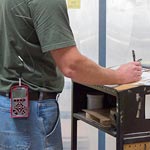 Looking for more on workplace safety?
Get the information and products you need to stay on top of industry changes and comply with regs.