CDC webpage provides COVID-19 building ventilation strategies
Posted January 22, 2021
The Centers for Disease Control and Prevention (CDC) recently launched a webpage that provides information on ventilation strategies intended to help reduce the concentration and spread of COVID-19 in indoor settings. The CDC says the building ventilation strategies are intended to be used in conjunction with other mitigating strategies such as social distancing, wearing face masks, and practicing hand hygiene.
While the strategies are intended to be applicable across indoor environments, the CDC notes that applying them to different building types, occupancies, and activities under environmental and seasonal changes can be challenging. The agency says building owners or operators will need to identify which strategies are appropriate for each building throughout the year and should obtain consultation from experienced Heating, Ventilation and Air Conditioning (HVAC) professionals when considering changes to HVAC systems and equipment.
The page also includes a list of frequently asked questions (FAQs) about building ventilation.
This article was written by Rachel Krubsack of J. J. Keller & Associates, Inc.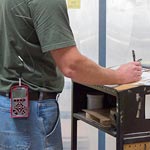 Looking for more on workplace safety?
Get the information and products you need to stay on top of industry changes and comply with regs.