What's the worst that could happen in an FMLA claim?
Posted January 4, 2019
No one ever said complying with the Family and Medical Leave Act was easy. Failure to comply with it, however, can result in some serious penalties. Even not having the FMLA poster can result in a $169 fine for each separate offense. Some FMLA cases have resulted in awards in the $millions. Many employers don't have that much money available, or would rather spend it on improving the company, so it pays to stay out of the FMLA hot water.
To get a feel for how much an FMLA case could cost, an employee who files a claim and wins may receive the following remedies:
Back pay
Front pay
Employment benefits
Other compensation lost or denied because of the violation, including overtime pay
Any actual monetary losses sustained — up to 12 weeks of wages
Interest on each sum, calculated at the prevailing rate
Liquidated damages equal to the above sum unless the employer had reasonable grounds for believing it was not in violation
Putative damages
Attorney fees and costs
Equitable relief
Reinstatement and/or employment promotion as appropriate.
If you believe you have violated the FMLA, offering reinstatement to a terminated employee can help your defense. The employee might not take you up on the offer and, if not, the employee could have a greater challenge arguing that you continued to have hostility toward the employee. If the employee does take you up on the offer, be sure the employee is not retaliated against upon return. On the flip side of that coin, an employee could argue that your offer of reinstatement is an admission of liability.
Of course, there are no hard and fast amounts to quantify, as the results will depend upon the specific facts involved. Spending time defending your actions also has a cost to it, as time away from the office is time not spent moving the business forward.
Beyond the financial penalties, you could risk your company name, morale, brand, and future business.
Plaintiffs (irritated employees) have two years to file an FMLA complaint, or three years if the violation is willful. An often unknown or ignored provision in the FMLA is individual employees can be liable for violations. That means that not only can the company be on the hook, but individuals such as managers, supervisors, HR professionals, and leave administrators could be named in a suit and would need to defend their actions.
This article was written by Darlene M. Clabault, SHRM-CP, PHR, CLMS, of J. J. Keller & Associates, Inc. The content of these news items, in whole or in part, MAY NOT be copied into any other uses without consulting the originator of the content.
---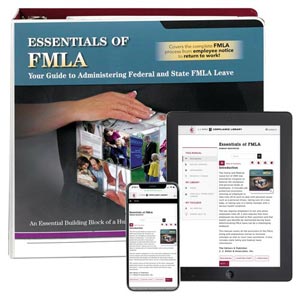 J. J. Keller's Essentials of FMLA manual helps HR pros understand and comply with the FMLA rules, control costs related to leave taken, and minimize the law's potential disruption to their organizations' operations.
---
J. J. Keller's FREE HR SafetyClicks™ email newsletter brings quick-read safety and compliance news right to your email box.