Researchers call OSH surveillance approaches outdated
Posted January 10, 2018
The National Academies of Sciences, Engineering, and Medicine says occupational safety and health (OSH) surveillance approaches are outdated. According to the Academies, the landscape and nature of work in the United States has "changed remarkably over the past several decades," but the OSH surveillance system has not.
A new National Academies report titled "A Smarter National Surveillance System for Occupational Safety and Health in the 21st Century," takes a look at several OSH areas such as injury and illness recording, interagency coordination, and state-based OSHA surveillance programs. The report also recommends actions aimed at improving the coordination and cost-effectiveness of the OSH surveillance system.
OSH surveillance uses data to analyze the relationships between work and injuries and to improve worker safety and health. According to the Academies, the country needs a robust OSH surveillance system to develop effective prevention programs and target future research.
While the report is intended for federal and state agencies with an interest in occupational safety and health, it may also be useful for employers, labor unions and other worker advocacy organizations, the workers' compensation industry, state epidemiologists, academic researchers, and the broader public health community.
---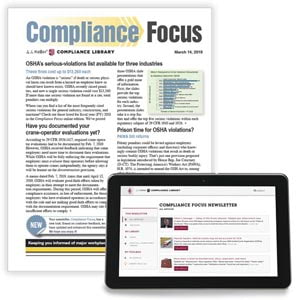 J. J. Keller's Compliance Focus helps you stay on top of critical regulatory developments from: DOT, OSHA, EPA, DOL, MSHA, EEOC, DHS and other agencies.
---
J. J. Keller's FREE Workplace SafetyClicks™ email newsletter brings quick-read workplace safety and compliance news right to your email box.