OSHA Fact Sheet describes controls for silica dust when using handheld power saws
Posted January 26, 2018
OSHA recently released the latest in a string of guidance documents regarding crystalline silica. The new fact sheet addresses the control of silica dust in construction work while using handheld power saws to cut fiber-cement board. The Agency says using handheld circular saws to cut the board can generate respirable crystalline silica dust, which can irreversibly damage the lungs when inhaled over time.
The fact sheet describes dust controls construction employers can use to minimize the amount of airborne dust when employees use handheld circular saws with a blade diameter of 8 inches or less to cut fiber-cement board as listed in Table 1 of the Respirable Crystalline Silica Standard for Construction at 29 CFR 1926.1153.
The engineering control method recommended by OSHA is vacuum dust collection system (VDCS). This kind of system can be used to control dust when cutting fiber-cement board outdoors with a handheld power saw equipped with a blade of 8 inches or less.
The VDCS includes:
A handheld circular saw with a partially enclosed saw blade equipped with either an integrated dust collection port, or a commercially available adapter installed per manufacturer's directions.
A fiber-cement saw blade less than 8 inches in diameter.
A vacuum that is recommended by the tool manufacturer with enough air flow to capture dust at the cutting point. Use a vacuum rated at 80 cubic feet per minute or higher for effective capture.
Filter with a 99 percent or greater efficiency in the vacuum exhaust. HEPA filters may be used but are not required. For longer filter life, use of a disposable filter bag or cyclone pre-filter is recommended.
A vacuum exhaust hose capable of providing the airflow recommended by the tool manufacturer. A 1.25" to 2" diameter vacuum hose is typically adequate.
Workers should be trained to use the VDCS as designed and to use good work practices for the system.
The fact sheet states that when properly used, a VDCS can effectively control silica dust. Therefore, Table 1 does not require use of respiratory protection when cutting fiber-cement board outdoors using a handheld power saw with a blade 8 inches or smaller in diameter. For indoor use, or with blades larger than 8 inches, Table 1 does not apply, and employers must conduct an exposure assessment and may need to take additional action, including the implementation of a respiratory protection program.
---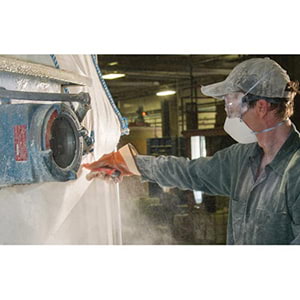 J. J. Keller's Crystalline Silica for Construction Training addresses critical information construction employers and employees must be aware of regarding the dangers of respirable crystalline silica.
---
J. J. Keller's FREE Workplace SafetyClicks™ email newsletter brings quick-read workplace safety and compliance news right to your email box.