Minimum wage poster update needed in more than a dozen states
Posted January 2, 2018
The New Year ushers in a minimum wage increase in 18 states, and in many states the increase is accompanied by a new minimum wage poster.
A new minimum wage poster for 2018 was released by:
Alaska
Arizona
Colorado
Florida
Maine
Minnesota
Missouri
Montana
New Jersey
New York
Ohio
Rhode Island
South Dakota
Washington
The minimum wage also increased in California, Hawaii, Michigan, and Vermont. However, these states previously updated their minimum wage poster to show rates for multiple years, including 2018, so employers who were up-to-date on their postings don't need to put up a new poster at this time.
The new state minimum wage rates (shown in the chart below) took effect on January 1, 2018, in all states except New York, where it became effective on December 31, 2017.
Employers should make sure the current minimum wage poster is on the wall, to comply with state laws and make employees aware of the new rate. When a state has its own minimum wage, both the state and federal minimum wage posters must be displayed.
Federal contractor minimum wage change
Employers with federal contracts may also need to display an updated poster. The United States Department of Labor (DOL) made a mandatory change to the federal contractor minimum wage posting to show the 2018 rate of $10.35 per hour.
The "Worker Rights Under Executive Order 13658" posting applies to employers with new and replacement contracts covered by the executive order. The posting shows the federal minimum wage for contractors, which is adjusted annually for inflation.
Additional poster updates
A new minimum wage is the most common reason for a mandatory poster change at the beginning of the year, but other laws also brought recent poster updates.
Employers in the states listed should make sure they are displaying the most recent version of the following posters:
Alaska – Safety and Health Protection on the Job (injury reporting law change effective May 23, 2016, poster released December 12, 2017)
California – Transgender Rights in the Workplace (law effective January 1, 2018)
California – California Law Prohibits Workplace Discrimination and Harassment (update adding sexual harassment information, effective January 1, 2018)
Hawaii – Wage and Hour Laws (Family Leave Law change effective July 11, 2017, poster released December 18, 2017)
Nevada – Domestic Violence Bulletin (law effective January 1, 2018)
North Carolina – Wage and Hour Notice (Employee Fair Classification Act effective December 31, 2017)
Vermont – Reasonable Accommodations for Pregnancy (law effective January 1, 2018)
Washington – Your Rights as a Worker (Paid Sick Leave law effective January 1, 2018)
New local posters required
Employers in some cities and counties have additional posting obligations and must display posters under local laws. Businesses in the communities listed should make sure they have the 2018 version of their municipal poster displayed:
Arizona
Flagstaff – Minimum Wage Law
California
Cupertino – Minimum Wage
El Cerrito – Minimum Wage
Los Altos – Minimum Wage
Mountain View – Minimum Wage
Oakland – Minimum Wage
Palo Alto – Minimum Wage
Richmond – Minimum Wage
San Diego – Minimum Wage
San Francisco – Heath Care Security Ordinance, Paid Parental Leave
Santa Clara – Minimum Wage
San Jose – Minimum Wage
San Mateo – Minimum Wage
Sunnyvale – Minimum Wage
Florida
Broward County – Living Wage Ordinance for county contractors
Miami-Dade County – Living Wage for Service Contracts
Minnesota
Minneapolis – Minimum Wage
New Mexico
Albuquerque – Minimum Wage
Bernalillo County – Minimum Wage
Washington
Seattle – Minimum Wage
Tacoma – Minimum Wage
Industry-specific changes
In some states and cities, specific posters are required for employers in certain industries. Employers in the industries and locations listed below need a new or updated posting for 2018:
California
Emeryville – Fair Workweek posting for employers in the retail and fast food industries
New Jersey
Wage Orders for hotel and motel, food service, and seasonal amusement occupations
Discrimination in Housing posting for real estate brokers who sell or rent property
Discrimination in Public Accommodations posting for places of public accommodation
New York
Fair Work Practices postings for employers in the retail and fast food industries
Minimum wage posters for the building service, agricultural, and hospitality industries
State Minimum Wage and Poster Updates 2018
State
New Rate
New Minimum Wage Poster Needed?
Alaska
$9.84
Yes
Arizona
$10.50
Yes
California*
$10.50; $11
No
Colorado
$10.20
Yes
Florida
$8.25
Yes
Hawaii
$10.10
No
Maine
$10
Yes
Michigan
$9.25
No
Minnesota*
$7.87; $9.65
Yes
Missouri
$7.85
Yes
Montana*
$8.30; $4
Yes
New Jersey
$8.60
Yes
New York**
$10.40; $11; $12; $13
Yes
Ohio
$8.30
Yes
Rhode Island
$10.10
Yes
South Dakota
$8.85
Yes
Vermont
$10.50
No
Washington***
$9.78; $11.50
Yes

*Rate varies based on business size.

**Rate varies based on location. Effective December 31, 2017.

***Workers 14 or 15 years old may be paid a lower rate.
This article was written by Terri Dougherty of J. J. Keller & Associates, Inc.
---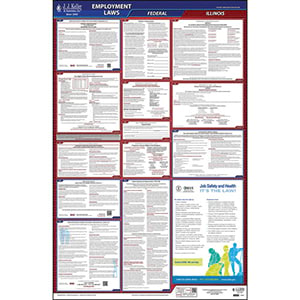 J. J. Keller's State & Federal Employment Law Posters help you meet state and federal labor law posting requirements.
---
J. J. Keller's FREE HRClicks™ email newsletter brings quick-read human resources-related news right to your email inbox.