Intermittent FMLA leave FAQs
Posted January 13, 2017
Intermittent FMLA leave can be one of the sticky parts of tracking and otherwise administering leave. We've compiled answers to some frequently asked questions to aid understanding.
Q: Do employees need to take leave all at once or may they take it periodically or to reduce their work schedule?
A: When it is medically necessary, employees have the right to take FMLA leave intermittently —taking leave in separate blocks of time for a single qualifying reason, or on a reduced leave schedule — reducing their usual weekly or daily work schedule. When leave is needed for planned medical treatment, however, the employee must make a reasonable effort to schedule treatment so as not to unduly disrupt your organization's operation.
Q: Are employees entitled to take FMLA leave intermittently or on a reduced schedule basis to bond with a child?
A: Leave to care for or bond with a healthy newborn child or for a newly placed adopted or foster child may be taken intermittently or on a reduced schedule basis only with the employer's approval. The leave must also conclude within 12 months after the birth or placement.
Q: May an employer change an employee's job when the employee takes intermittent or reduced schedule leave?
A: Employees needing intermittent/reduced schedule leave for foreseeable medical treatments must work with their employers to schedule the leave so as not to disrupt the employer's operations, subject to the approval of the employee's health care provider. In such cases, the employer may transfer the employee temporarily to an alternative job with equivalent pay and benefits that accommodates recurring periods of leave better than the employee's regular job. Employers may not transfer an employee if the need for leave is not foreseeable.
Q: If an eligible employee on intermittent FMLA leave only uses leave on the day before or the day after she has scheduled days off, what are our options?
A: Every now and then, employees like to stretch their weekends or holidays. If this happens, review the certification to see if the employee's leave matches the information. If not, you may request a recertification and include a record of the employee's absence pattern, asking the doctor whether the employee's condition and need for leave is consistent with such a pattern.
Q: How much advance notice does an employee need to give when taking unforeseen intermittent FMLA leave?
A: Employees are required to provide notice as soon as practicable under the facts and circumstances of the particular case. Generally, it should be practicable for the employee to provide notice of leave within the time prescribed by your usual and customary notice requirements applicable to such leave.
Q: If an employee with a life-long condition takes FMLA leave in small increments throughout the 12-month period, is it possible that she will never exhaust the 12 weeks of leave?
A: Yes, an employee may take FMLA in increments and never use all 12 weeks of leave in a 12-month leave year period. In a new 12-month leave year period, the employee would be entitled to a new batch of 12 weeks of leave, assuming he or she otherwise meets the eligibility criteria.
Q: May an employee essentially remove mandatory overtime if his FMLA-related condition limits him to working only eight hours per day, 40 hours per week?
A: Yes. If an employee would normally be required to work overtime, but is unable to do so because of an FMLA-qualifying reason that limits the employee's ability to work overtime, the hours which the employee would have been required to work may be counted against the employee's FMLA entitlement. Voluntary overtime hours that an employee does not work due to an FMLA-qualifying reason may not, however, be counted against the employee's FMLA leave entitlement.
Q: If an exempt employee takes intermittent or reduced schedule FMLA, do we need to pay them their full salary?
A: No. You may make deductions from the employee's salary for any hours taken as intermittent or reduced schedule FMLA leave within a workweek without affecting the employee's exempt status.
This article was written by Darlene Clabault of J. J. Keller & Associates, Inc.
---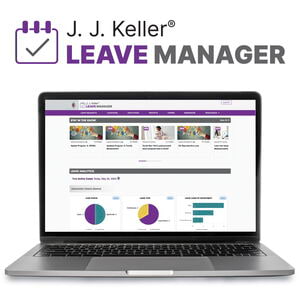 J. J. Keller® FMLA Manager™ Service makes leave tracking easier while complying with the latest federal & state regulations.
---
J. J. Keller's FREE HRClicks™ email newsletter brings quick-read human resources-related news right to your email inbox.