CSB concludes process safety management deficiencies led to deadly explosion
Posted January 30, 2017
The U.S. Chemicals Safety Board (CSB) released a new safety video detailing its investigation into a fatal fire and explosion at a plant in Geismar, Louisiana. The June 13, 2013, accident killed two workers and injured an additional 167. According to the CSB, the explosion and fire occurred when a heat exchanger containing flammable liquid propane violently ruptured.
The 12-minute video entitled, "Blocked In," features a 3D animation of the explosion and fire along with interviews with CSB investigators.
CSB said its investigation found many process safety management program deficiencies at the Louisiana plant. In particular, the CSB found that the heat exchanger that failed was completely isolated from its pressure relief valve.
The CSB concluded that a series of process safety management program deficiencies in the twelve years leading up to the incident caused the heat exchanger to be unprotected from overpressure. As revealed in the investigation, during that time Management of Change reviews, Pre-Startup Safety reviews, and Process Hazard Analyses all failed to effectively identify and control the hazard.
In addition, the CSB found that the plant failed to develop a written procedure for activities performed on the day of the incident, nor did the company have a routine maintenance schedule to prevent the operational heat exchanger from needing to be shut down for cleaning.
The CSB made the following recommendations to the Louisiana plant and for other companies with similar operations:
Conduct safety culture assessments that involve workforce participation, and communicate the results in reports that recommend specific actions to address safety culture weaknesses;
Develop a robust safety indicators tracking program that uses the data identified to drive continual safety improvement; and
Perform comprehensive process safety program assessments to thoroughly evaluate the effectiveness of the facility's process safety programs.
The CSB is an independent federal agency charged with investigating serious chemical accidents. CSB investigations examine all aspects of chemical accidents, including physical causes such as equipment failure as well as inadequacies in regulations, industry standards, and safety management systems. The Board does not issue citations or fines but makes safety recommendations to companies, industry organizations, labor groups, and regulatory agencies such as OSHA and EPA.
---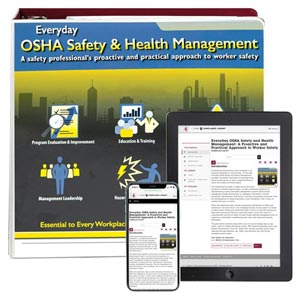 J. J. Keller's Everyday OSHA Safety & Health Management Manual provides "how-to" guidance and tools on a wide range of workplace health and safety issues.
---
J. J. Keller's FREE Workplace SafetyClicks™ email newsletter brings quick-read workplace safety and compliance news right to your email box.