NIOSH study supports OSHA's annual respirator fit test requirement
Posted January 8, 2016
According to the National Institute for Occupational Safety and Health (NIOSH), a recent study completed by the agency confirms the necessity of the current OSHA respirator fit testing requirement, both annually and when physical changes have occurred. The study's conclusions emphasize that respirator users who have lost more than 20 pounds should be re-tested to be sure that the current size and model of respirator in use still properly fits.
For over three years, NIOSH researchers followed a cohort of 229 subjects measuring N95 filtering facepiece respirator (FFR) fit and physical characteristics (e.g., face size, weight) every six months. The study found that respirator fit did change over time. The greater the weight loss, the higher the chance that respirator fit will change
The estimated percent of workers whose respirator did not fit them increased with increasing length of time between fit tests, from 10 percent at year 1 to 20 percent at year 2, doubling those at risk for exposure if not fit tested, and to 26 percent at year 3. This exceeds the 7 percent threshold used by OSHA in 1998 during rulemaking. Additionally, twenty-four percent of subjects who lost more than 20 pounds no longer maintained an acceptable fit.
OSHA requires FFR users to undergo an annual fit test to ensure continued proper respirator fit. In addition to annual fit testing, OSHA requires that fit testing be repeated "whenever an employee reports, or the employer or the physician or other licensed health care professional makes visual observations of changes in the employee's physical condition that could affect respirator fit (e.g. facial scarring, dental changes, cosmetic surgery, or an obvious change in body weight." (OSHA, 1998)
---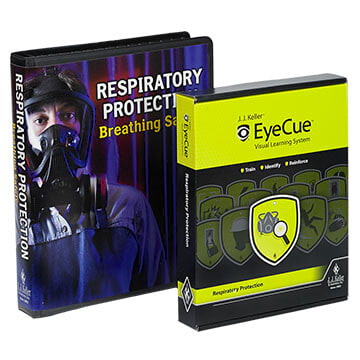 J. J. Keller's Respiratory Protection: Breathing Safely - DVD Training Program helps you satisfy OSHA's respiratory protection training requirements.
---
J. J. Keller's FREE Workplace SafetyClicks™ email newsletter brings quick-read workplace safety and compliance news right to your email box.