BTS releases October 2015 North American freight numbers
Posted January 12, 2016
According to data released by the Bureau of Transportation Statistics (BTS), the value of U.S.-NAFTA freight totaled $96.6 billion in October 2015. All modes of transportation carried a lower total value of freight than a year earlier.
October was the first month on record in which the total value of U.S.-Mexico freight flows exceeded U.S.-Canada freight flows. Although the total freight value to and from both Canada and Mexico fell from October 2014, the decline in freight value with Canada (18.5 percent) was much larger than the decline with Mexico (1.5 percent) primarily due to the reduced unit price of crude oil.
Year-over-year, the value of U.S.-NAFTA freight flows by all modes declined by 10.7 percent.
Mode specifics:
In October 2015 compared to October 2014, the value of commodities moving by truck decreased by 2.0 percent, while the value of air freight decreased by 2.1 percent and rail by 15.3 percent.
Vessel freight values decreased 35.0 percent and pipeline freight decreased 52.0 percent mainly due to the lower unit price of crude oil, which comprises a large share of the commodities carried by these modes.
Apart from the decline in value, there was an 8.0 percent decline in the weight of imported crude oil from October 2014 to October 2015, which was likely due to production declines in Canada and Mexico.
Trucks carried 67.1 percent of U.S.-NAFTA freight and continue to be the most heavily utilized mode for moving goods to and from both U.S.-NAFTA partners. Trucks accounted for $33.6 billion of the $51.4 billion of imports (65.4 percent) and $31.2 billion of the $45.3 billion of exports (69.0 percent).
---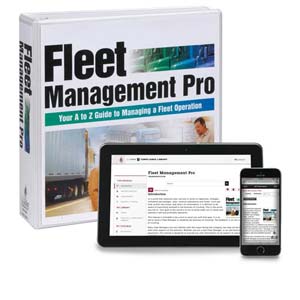 J. J. Keller's Fleet Management Pro Manual focuses on the business of trucking to help maximize efficiency & effectiveness and deliver maximum revenue & profits.
---
J. J. Keller's FREE Transportation SafetyClicks™ email newsletter brings quick-read safety and compliance news right to your email box.
Sign up to receive Transportation SafetyClicks™.