Back to Press Releases
FOR IMMEDIATE RELEASE (September 23, 2021)
New Universal Placard Holder Solves Common Driver Pain Points
J. J. Keller's Extensive Research Leads to Unique, Flexible Design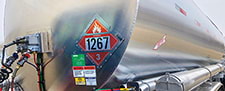 Neenah, WI - Difficulty inserting and removing hazmat placards. Blowouts. Broken clips. For decades, drivers have had to contend with these and other placard holder frustrations. Until now, that is. J. J. Keller & Associates, Inc. has introduced its new Universal Placard Holder, with a patent-pending flexible design that addresses common pain points.
"Rigid placard holders kink when placed on curved surfaces, making it difficult to slide placards and shields in and out," said Alex Kaye, J. J. Keller mechanical engineer. "Our flexible holder can be mounted on flat, curved or uneven surfaces with ease."
Developed after thorough customer research including rounds of interviews and prototype testing, the Universal Placard Holder:
mounts to flat or curved surfaces, including tank diameters as small as five feet
includes a removable, UV-resistant polycarbonate shield to protect placards from the elements and blowout
features a pushup thumb hole in the shield for easy removal of the placard and shield
includes one-piece stainless steel spring clip to keep the placard and shield in place
prevents placard and shield corners from getting stuck or pinched in the holder.
"It's been more than 20 years since placard holders have had any design changes," said Joel Clark, director of forms and supplies for J. J. Keller. "Our Universal Placard Holder relieves many of our customers' pain points, eliminating the need for them to find work-arounds and allowing them to stay in compliance."
The Universal Placard Holder is available with and without back plate at JJKeller.com/212291 or by calling 800-327-6868.
About J. J. Keller & Associates, Inc.
J. J. Keller & Associates, Inc. is the most respected name in safety and regulatory compliance. Since its beginning as a one-man consulting firm in 1953, the company has grown to over 1,500 associates serving more than 500,000 customers — including over 90% of the Fortune 1000® companies. The company's subject-matter expertise spans nearly 1,500 topics, and its diverse solutions include ELogs and mobile technology; training via online courses, streaming video or DVD; online management tools; managed services; consulting services; online and print publications; forms and supplies.
Transportation professionals rely on J. J. Keller's in-house expertise and wide selection of products and services to reduce risk and improve regulatory compliance, performance management, and operational efficiency. For more information, visit JJKeller.com
For more information, contact: