Back to Press Releases
FOR IMMEDIATE RELEASE (February 1, 2017)
New Training Program Helps Employees Maximize Survival When Faced with an Active Threat
J. J. Keller & Associates, Inc. introduces Active Shooter/Active Threat online training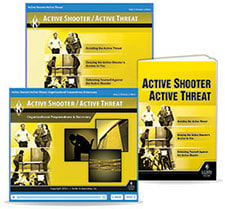 Neenah, WI - A Federal Bureau of Investigation (FBI) study identified 200 active shooter incidents in the U.S. from 2000-2015 that killed or wounded a total of 1,274 people. To help organizations improve employee response and survival in these unpredictable and quickly evolving situations, J. J. Keller & Associates, Inc. has introduced the Active Shooter/Active Threat training program.
The new online course is designed to empower employees by teaching them warning signs of workplace violence, how to recognize the presence of an active threat, possible courses of action to take based on individual abilities and location, and steps to follow when law enforcement arrives. As a follow-up to online training, employees can reference the Active Shooter/Active Threat employee handbook to test their knowledge and assess their surroundings to determine the best course of action in the event of an active threat or active shooter.
"Just as employees are trained to maximize survival in a natural disaster, the same level of vigilance should be applied to preparing for an active threat," said Jessica Bates, senior product development specialist at J. J. Keller & Associates, Inc. "This new training will help to ease fear and minimize devastation should individuals be confronted with an active threat in the workplace, or elsewhere."
In addition to employee training, J. J. Keller provides an Active Shooter/Active Threat: Organizational Preparedness & Recovery online course for management and human resources professionals. Information provided in this course is designed to assist with the challenging administrative and leadership responsibilities associated with incidents of workplace violence, such as helping the organization prepare for, and recover from, an active threat or active shooter incident.
About J. J. Keller & Associates, Inc.
Since its beginning as a one-man consulting firm in 1953, J. J. Keller & Associates, Inc. has grown to become the most respected name in safety and regulatory compliance. Now over 1,400 associates strong, J. J. Keller serves over 560,000 customers — including over 90% of the Fortune 1000® companies. The company's subject-matter expertise spans nearly 1,500 topics, and its diverse solutions include ELogs and mobile technology; training via online courses, streaming video or DVD; online management tools; managed services; consulting services; online and print publications; forms and supplies.
Safety professionals rely on J. J. Keller's in-house expertise and wide selection of products and services to reduce risk and improve regulatory compliance, performance management, and operational efficiency. For more information, visit JJKeller.com.
For more information, contact:
Mary Borsecnik
Corporate Marketing Communications Specialist
J. J. Keller & Associates, Inc.
1-800-843-3174, ext. 7050
Email: mborsecnik@jjkeller.com