Back to Press Releases
FOR IMMEDIATE RELEASE (June 20, 2017)
New Training Helps Motor Carriers Reduce Hours of Service Violations
J. J. Keller & Associates, Inc. Introduces Hours of Service Rules for Property-Carrying CMV Drivers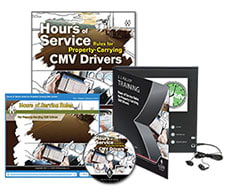 Neenah, WI - Year after year, Hours of Service violations top the list of driver violations found during roadside inspections.
To help motor carriers combat this, J. J. Keller & Associates, Inc. developed its new Hours of Service Rules for Property-Carrying CMV Drivers training program.
"Hours of Service training is still essential, even if your drivers use ELogs," said Mark Schedler, transportation management editor for J. J. Keller & Associates, Inc. "Electronic tracking is to the minute, so unless drivers understand Hours of Service, they may still generate an excessive number of violations just because they aren't clear on FMCSA requirements. And, if you haven't transitioned to ELogs yet, an Hours of Service training refresher can help your implementation go more smoothly."
Hours of Service Rules for Property-Carrying Drivers walks drivers through key regulatory areas such as on-duty vs. off-duty time; 11-hour, 14-hour, and 60-/70-hour limits; the mandatory-break provision; and some of the more widely used exceptions. It also explains how to track Hours of Service using automatic onboard recording devices, electronic logging devices, and paper logs, and reminds drivers how Hours of Service compliance affects their company's CSA score.
At the core of the DVD program is a 26-minute video, which is supplemented by three bonus videos: Exceptions to the Hours of Service Rules, ELD Basics, and How to Fill Out Paper Logs. The program is also available in Video Training Book, Online Course, and Pay Per View Video formats. For more information, visit JJKeller.com/121335.
About J. J. Keller & Associates, Inc.
Since its beginning as a one-man consulting firm in 1953, J. J. Keller & Associates, Inc. has grown to become the most respected name in safety and regulatory compliance. Now over 1,400 associates strong, J. J. Keller serves over 600,000 customers — including over 90% of the Fortune 1000® companies. The company's subject-matter expertise spans nearly 1,500 topics, and its diverse solutions include ELogs and mobile technology; training via online courses, streaming video or DVD; online management tools; managed services; consulting services; online and print publications; forms and supplies.
Transportation professionals rely on J. J. Keller's in-house expertise and wide selection of products and services to reduce risk and improve regulatory compliance, performance management, and operational efficiency. For more information, visit JJKeller.com.
For more information, contact:
Mary Borsecnik
Corporate Marketing Communications Specialist
J. J. Keller & Associates, Inc.
1-800-843-3174, ext. 7050
Email: mborsecnik@jjkeller.com