Back to Press Releases
FOR IMMEDIATE RELEASE (April 4, 2017)
New Training Helps Employers Reduce Dangerous Slip, Trip, and Fall Injuries
J. J. Keller & Associates, Inc. debuts new Walking-Working Surfaces training resources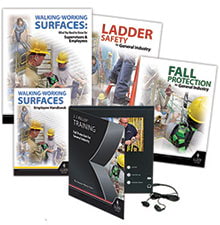 Neenah, WI - With nearly every U.S. business affected by OSHA's Walking-Working Surfaces Final Rule, pressure is mounting to train employees on new requirements ahead of the May 17, 2017 deadline.
To help general industry employers comply, J. J. Keller & Associates, Inc. has introduced three new, easy-to-understand training programs: Walking-Working Surfaces: What You Need to Know for Supervisors & Employees, Fall Protection for General Industry, and Ladder Safety for General Industry, as well as the Walking-Working Surfaces Employee Handbook. In accordance with the updated standard, these resources help supervisors and employees understand how the rule impacts them, and provide guidance for recognizing and preventing slip, trip, and fall hazards in the workplace.
"In order to satisfy the requirements outlined in Subpart D 29 CFR 1910.30, 'Training,' employers must ensure that walking-working surfaces training conveys the day-to-day implications of slip, trip, and fall hazards in their workplace, the precautions employees must take to protect themselves from these hazards, and how to use fall protection systems and equipment specified under Subpart D," said Jennifer Stroschein, workplace safety editor for J. J. Keller & Associates, Inc. "When delivered by a qualified person, J. J. Keller's training programs assist employers in ensuring their training is compliant and provide employees with accurate information they need to perform their jobs safely."
Each training program is available in English and Spanish, and offered in DVD, Pay Per View, Online Course, and Video Training Book formats to help employees get up to speed quickly, no matter their schedule or location. View all training formats and their components at JJKeller.com/120068.
About J. J. Keller & Associates, Inc.
Serving more than 600,000 customers, including 90% of the Fortune 1000® companies, J. J. Keller & Associates, Inc. is the nation's leading provider of regulatory, safety and compliance solutions. Organizations of all sizes rely on our expert insights to help create safe work environments and simplify the complexities of regulatory compliance. Our diversified portfolio of solutions and services including online management tools, publications, training, forms, supplies, consulting and professional services is trusted to safeguard workers, reduce risk and build operational confidence. As a privately-held, family-owned company since 1953, we are committed to helping protect lives every day. JJKeller.com.
For more information, contact:
Mary Borsecnik
Corporate Marketing Communications Specialist
J. J. Keller & Associates, Inc.
1-800-843-3174, ext. 7050
Email: mborsecnik@jjkeller.com