Back to Press Releases
FOR IMMEDIATE RELEASE (January 9, 2018)
New Straight Truck Training Helps Minimize Costly Errors and Accidents
J. J. Keller & Associates, Inc. adds two training programs to NEW straight truck series, providing practical training on critical driver topics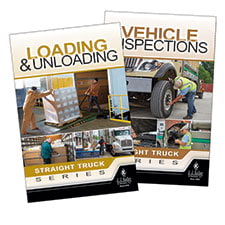 Neenah, WI - In an effort to keep experienced drivers from becoming complacent and help new drivers develop vital safety skills, J. J. Keller & Associates, Inc. has added two new programs to its Straight Truck Series.
Developed by J. J. Keller's trusted in-house subject-matter experts, adult learning professionals and driver training pros, each program features quick-hitting content on a range of straight truck topics.
Vehicle Inspections focuses on helping drivers understand the basics of a pre-trip, en-route and post-trip inspection on a straight truck. It also emphasizes the importance of routinely inspecting their vehicle, even when it may not be required by the regulations.
Loading and Unloading covers the basic techniques that will help keep drivers safe while loading or unloading their straight trucks. It outlines procedures drivers must follow to avoid injuries when lifting, moving and placing material and explains safety measures for using equipment at loading docks and lift gates.
"Straight truck drivers typically have more stops and city routes, as well as more loading and unloading than over-the-road drivers," said Richard Malchow, transport management editor for J. J. Keller & Associates. "These new training programs can help develop and refresh critical skills straight truck drivers need to safely perform their jobs."
The programs are part of the Straight Truck Training Series, which debuted two programs earlier this year — Driving Techniques and Backing & Parking. Each program is available in DVD, Pay Per View, and Online Course formats.
For more information, visit JJKeller.com/123398.
About J. J. Keller & Associates, Inc.
Since its beginning as a one-man consulting firm in 1953, J. J. Keller & Associates, Inc. has grown to become the most respected name in safety and regulatory compliance. Now over 1,400 associates strong, J. J. Keller serves over 600,000 customers — including over 90% of the Fortune 1000® companies. The company's subject-matter expertise spans nearly 1,500 topics, and its diverse solutions include ELogs and mobile technology; training via online courses, streaming video or DVD; online management tools; managed services; consulting services; online and print publications; forms and supplies.
Transportation professionals rely on J. J. Keller's in-house expertise and wide selection of products and services to reduce risk and improve regulatory compliance, performance management, and operational efficiency. For more information, visit JJKeller.com.
For more information, contact:
Tom Hines
Director of Creative & Promotions
J. J. Keller & Associates, Inc.
1-800-843-3174
Email: thines@jjkeller.com