Back to Press Releases
FOR IMMEDIATE RELEASE (October 3, 2017)
New Straight Truck Driver Training Series Helps Minimize Costly Errors and Accidents
J. J. Keller & Associates, Inc. debuts new training program that provides practical, hands-on application of critical straight truck topics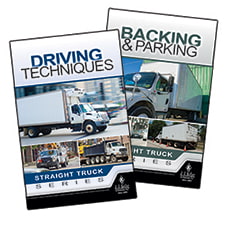 Neenah, WI - In an effort to keep experienced drivers from becoming complacent and help new drivers develop vital safety skills, J. J. Keller & Associates, Inc. has rolled out two new programs as part of its Straight Truck Series.
Developed by J. J. Keller's trusted in-house subject-matter experts, adult learning professionals, and driver training pros, each program features quick-hitting content on a range of straight truck topics. Backing & Parking focuses on helping drivers understand basic techniques for safely maneuvering a straight truck while backing and parking, including avoiding fixed object collisions that could result in costly damage or serious injuries. Driving Techniques provides tips for safe straight truck operation from driving defensively to maneuvering through turns and intersections, and making appropriate adjustments for night or extreme weather driving.
"Though straight truck safety regulations may vary based on weight class and location of commerce, safe operations remain essential," said Richard Malchow, transport management editor for J. J. Keller & Associates. "Whether as a matter of best practice or in an effort to meet industry requirements, following the procedures outlined in these programs can help mitigate risk, reduce injuries and accidents, improve safety scores, and increase productivity."
Two additional programs — Loading & Unloading and Vehicle Inspections — will be added to the series later this year. Each program is available in DVD, Pay Per View, and Online Course formats.
For more information, visit
JJKeller.com/122277
About J. J. Keller & Associates, Inc.
Since its beginning as a one-man consulting firm in 1953, J. J. Keller & Associates, Inc. has grown to become the most respected name in safety and regulatory compliance. Now over 1,400 associates strong, J. J. Keller serves over 600,000 customers — including over 90% of the Fortune 1000® companies. The company's subject-matter expertise spans nearly 1,500 topics, and its diverse solutions include ELogs and mobile technology; training via online courses, streaming video or DVD; online management tools; managed services; consulting services; online and print publications; forms and supplies.
Transportation professionals rely on J. J. Keller's in-house expertise and wide selection of products and services to reduce risk and improve regulatory compliance, performance management, and operational efficiency. For more information, visit JJKeller.com. JJKeller.com.
For more information, contact:
Mary Borsecnik
Corporate Marketing Communications Specialist
J. J. Keller & Associates, Inc.
1-800-843-3174, ext. 7050
Email: mborsecnik@jjkeller.com