Back to Press Releases
FOR IMMEDIATE RELEASE (October 23, 2018)
New SmartAssign™ Technology Alleviates the Burden of Unassigned Driving Events by 40%
Enhancements to the J. J. Keller® Encompass® system help customers overcome the number one challenge of electronic logging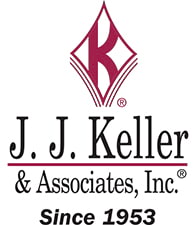 Neenah, WI - One of the most tedious and time-consuming challenges fleets face in maintaining accurate and current electronic logs is managing unassigned driving events — driving time that doesn't have a driver yet assigned to it. Often caused when the driver forgets to connect or has trouble connecting to the ELD, these events create inefficiency and non-compliance if handled incorrectly.
J.J. Keller & Associates, Inc. recognized the burden of unassigned events on fleets and developed a proprietary algorithm and unique settings within its Encompass® ELD system to help reduce these events significantly. To date, organizations using SmartAssign™ have seen a 40% reduction in the level of effort necessary to manage unassigned events.
"J.J. Keller understands the risk and operational inefficiency associated with unassigned driving events, and has tackled the issue head on," said Tom Reader, director of marketing at J.J. Keller. "SmartAssign™ Technology reduces the burden for both drivers and fleet managers, requiring less time for managing unassigned events, and allowing more time to focus on the day-to-day priorities of their business."
To learn more about the J.J. Keller® Encompass® system and new SmartAssign™ Technology, visit JJKeller.com/Encompass.
About J.J. Keller & Associates, Inc.
Since its beginning as a one-man consulting firm in 1953, J.J. Keller & Associates, Inc. has grown to become the most respected name in safety and regulatory compliance. Now over 1,400 associates strong, J. J. Keller serves over 600,000 customers — including over 90% of the Fortune 1000® companies. The company's subject-matter expertise spans nearly 1,500 topics, and its diverse solutions include ELogs and mobile technology; training via online courses, streaming video or DVD; online management tools; managed services; consulting services; online and print publications; forms and supplies.
Transportation professionals rely on J. J. Keller's in-house expertise and wide selection of products and services to reduce risk and improve regulatory compliance, performance management, and operational efficiency. For more information, visit www.jjkeller.com.
For more information, contact: