Back to Press Releases
FOR IMMEDIATE RELEASE (October 10, 2018)
New Service Manages Requests for Drivers' Safety Performance History Records
J. J. Keller Simplifies Process with New DOT Previous Employer Verification Service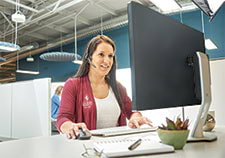 Neenah, WI - With driver turnover continuing at a high rate, fleets face the ongoing administrative burden of providing prospective employers of former drivers with a safety performance history record. Under DOT rule §391.23(g), fleets must respond to these requests within 30 days of receipt.
To handle this time-sensitive task on a fleet's behalf, J. J. Keller & Associates, Inc. now offers the DOT Previous Employer Verification Service.
This service provides fleets with a J. J. Keller® Compliance Specialist who completes all safety performance history records requests (SPHRRs). It includes verifying that the former driver served in a DOT role, completing the drug and alcohol and accident history sections, creating an electronic file of the document for the client's records, and then sending the completed SPHRR to the driver's prospective employer. The DOT Previous Employer Verification Service is offered exclusively to clients of J. J. Keller's DOT Drug & Alcohol Testing Program Management and Driver Qualification File Management services.
"This new offering relieves our clients of the time-consuming task of handling all of these requests themselves," said Shaun Gunderson, vice president of managed services at J. J. Keller. "With the current rate of drivers changing employers, our service saves countless hours of work for fleets, and it helps them be confident they're satisfying the regulatory requirements."
For more information about J. J. Keller's DOT Previous Employer Verification Service, visit JJKeller.com/DQservices or call 888-473-4638.
About J. J. Keller & Associates, Inc.
Since its beginning as a one-man consulting firm in 1953, J. J. Keller & Associates, Inc. has grown to become the most respected name in safety and regulatory compliance. Now over 1,400 associates strong, J. J. Keller serves over 600,000 customers — including over 90% of Fortune 1000® companies. With subject-matter expertise spanning a multitude of industries and regulatory agencies, the company offers consulting and managed services for fleet and transportation, workplace safety and environmental, and human resources. In addition to these professional services, J. J. Keller also offers electronic logging devices, training, online management tools, publications, and forms and supplies. For more information on how to reduce risk and improve regulatory compliance, visit www.jjkeller.com.
For more information, contact: