Back to Press Releases
FOR IMMEDIATE RELEASE (July 9, 2019)
New Service Helps Fleets Proactively Manage CSA Scores
J.J. Keller® CSA Performance Suite combines robust dashboard reporting with expert compliance assistance and training.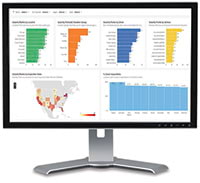 Neenah, WI - "Countless motor carriers simply don't have the time or resources to make sense of their CSA data, and this is where the risk lies." That's the warning from Tom Bray, transportation industry consultant at J.J. Keller & Associates, Inc.
According to Bray, motor carriers that aren't using their CSA data to proactively identify compliance issues and correct unsafe driver behaviors are at greater risk of intervention, litigation and serious accidents.
To make it easier for fleets to address this gap in their safety and compliance program, J.J. Keller has developed the new CSA Performance Suite.
Using the inspection, violation and crash data collected through the CSA program, the CSA Performance Suite's online dashboard displays real-time data that fleets can use to identify patterns and trends, prioritize areas requiring attention, monitor driver performance, and better understand what's impacting their CSA scores.
"In addition to the Suite's at-a-glance dashboards," Bray added, "what really sets this service apart is that customers also get a dedicated J.J. Keller® Compliance Specialist who provides additional oversight of trending metrics, offers insights to prevent future violations, supports customers in the event of an audit, and administers online corrective action training for drivers with violations."
To learn more about the new J.J. Keller® CSA Performance Suite, call 888-473-4638 or visit JJKeller.com/CSAperformance.
About J. J. Keller & Associates, Inc.
J. J. Keller & Associates, Inc. is the most respected name in safety and regulatory compliance. Since its beginning as a one-man consulting firm in 1953, the company has grown to over 1,400 associates serving more than 600,000 customers — including over 90% of the Fortune 1000® companies. With subject-matter expertise spanning a multitude of industries and regulatory agencies, the company offers consulting and managed services for fleet and transportation, workplace safety and environmental, and human resources. In addition to these professional services, J. J. Keller also offers electronic logging devices, training, online management tools, publications, and forms and supplies. For more information on how to reduce risk and improve regulatory compliance, visit www.jjkeller.com.
For more information, contact:
Becca Brown, Marketing Communications Specialist
J. J. Keller & Associates, Inc.
1-920-967-7050
Email: rbrown@jjkeller.com