Back to Press Releases
FOR IMMEDIATE RELEASE (March 8, 2017)
New Service Delivers In-Depth OSHA Compliance Analysis and Rating
J. J. Keller & Associates, Inc. Introduces OSHA Diagnostic Audit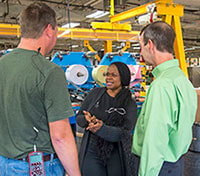 Neenah, WI - Companies can now get greater insight into their OSHA compliance performance with the new OSHA Diagnostic Audit service from J. J. Keller & Associates, Inc.
"Many companies have asked us for an even more robust solution for managing safety and compliance," said Steve Murray, senior director of consulting services at J. J. Keller & Associates, Inc. "This new service provides unparalleled insight into how companies can improve their compliance, manage risk, control insurance premiums, and reduce accidents and liability."
The J. J. Keller® OSHA Diagnostic Audit begins with an onsite assessment by a J. J. Keller® consultant who audits and scores a company's performance in over 450 areas covering 43 different OSHA compliance categories. Those scores are then compiled into a J. J. Keller® Compliance Risk Rating, which is a tool designed to measure a company's risk exposure and performance against other companies, among their different locations, and against their past performance.
Companies using this service also receive a detailed Executive Report of their diagnostic audit, details of their individual scores, recommendations for making short- and long-term improvements, and the guidance of J. J. Keller's regulatory specialists.
Murray added, "Our OSHA Diagnostic Audit goes far beyond a traditional compliance audit to thoroughly analyze a company's safety management policies and procedures, employee training, hazard identification and controls, and more. It's the most advanced tool for building a best-in-class OSHA compliance program."
For additional information about the J. J. Keller® OSHA Diagnostic Audit, visit JJKeller.com/diagnostic.
About J. J. Keller & Associates, Inc.
Since its beginning as a one-man consulting firm in 1953, J. J. Keller & Associates, Inc. has grown to become the most respected name in safety and regulatory compliance. Now over 1,400 associates strong, J. J. Keller serves over 600,000 customers — including over 90% of Fortune 1000® companies. With subject-matter expertise spanning a multitude of industries and regulatory agencies, the company offers consulting and managed services for fleet and transportation, workplace safety and environmental, and human resources. In addition to these professional services, J. J. Keller also offers electronic logging devices, training, online management tools, publications, and forms and supplies. For more information on how to reduce risk and improve regulatory compliance, visit JJKeller.com.
For more information, contact:
Mary Borsecnik
Corporate Marketing Communications Specialist
J. J. Keller & Associates, Inc.
1-800-843-3174, ext. 7050
Email: mborsecnik@jjkeller.com