Back to Press Releases
FOR IMMEDIATE RELEASE (December 6, 2016)
New Program Teaches Drivers How To Protect Themselves From Personal Threats
J. J. Keller & Associates, Inc. Introduces Personal Safety & Security for CMV Drivers training program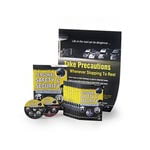 Neenah, WI - Theft. Road rage. Physical violence. To help commercial motor vehicle (CMV) drivers recognize and avoid threats like these, J. J. Keller & Associates, Inc., the nation's leading provider of safety and regulatory compliance solutions, has introduced Personal Safety & Security for CMV Drivers.
The training program explains how drivers can guard against potential dangers through proper trip planning and increased attentiveness on the road and at every stop. Specific topics discussed include how to: spot and avoid aggressive drivers, respond to roadside threats, prevent theft, and stay safe at truck stops and loading docks. It also includes four hazard perception scenarios to test drivers' responses to various situations.
"Drivers must have a plan for their safety and security," said Bob Rose, transport management subject-matter expert at J. J. Keller & Associates, Inc. "A plan for where to park and rest, as well as what to do when confronted by road rage, unscheduled changes to delivery times, and emergencies along the roadside. Their very lives are at stake."
Personal Safety & Security for CMV Drivers is available in DVD, tablet- and mobile- compatible Pay Per View and tablet-compatible Online Course formats. For more information, visit JJKeller.com/117653.
About J. J. Keller & Associates, Inc.
Since its beginning as a one-man consulting firm in 1953, J. J. Keller & Associates, Inc. has grown to become the most respected name in safety and regulatory compliance. Now over 1,400 associates strong, J. J. Keller serves over 560,000 customers — including over 90% of the Fortune 1000® companies. The company's subject-matter expertise spans nearly 1,500 topics, and its diverse solutions include ELogs and mobile technology; training via online courses, streaming video or DVD; online management tools; managed services; consulting services; online and print publications; forms and supplies.
Transportation professionals rely on J. J. Keller's in-house expertise and wide selection of products and services to reduce risk and improve regulatory compliance, performance management, and operational efficiency. For more information, visit www.jjkeller.com.
For more information, contact:
Mary Borsecnik
Corporate Marketing Communications Specialist
J. J. Keller & Associates, Inc.
1-800-843-3174, ext. 7050
Email: mborsecnik@jjkeller.com