Back to Press Releases
FOR IMMEDIATE RELEASE (February 28, 2018)
New Program from J. J. Keller Helps Prepare Drivers for Roadside Inspections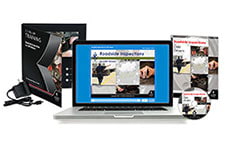 Neenah, WI - A poor roadside inspection can lead to fines and a driver or vehicle being placed out of service. To help prepare drivers for successful roadside inspections, J. J. Keller & Associates, Inc. — the nation's leader in safety and regulatory compliance — has developed the Roadside Inspections for CMV Drivers training program.
Designed by J. J. Keller's trusted in-house experts, this training program demonstrates how to prepare for a roadside inspection; details what happens during a roadside inspection and how to respond appropriately; and explains what to expect after they pass or fail a roadside inspection. 
"There is simply no such thing as too much training or preparation when it comes to roadside inspections. The wrong attitude, missing documents, or vehicle maintenance issues can result in violations and, if serious enough, an out-of-service order. Nobody needs that," said Tom Bray, transportation consultant for J. J. Keller. "Our new training program will help prepare drivers for what the inspector will look at during an inspection, so they can focus on those items and make sure they're compliant before an inspection occurs."
Comprised of dynamic real-life video lessons that encourage active learning, Roadside Inspections for CMV Drivers is available in DVD, Video Training Book, Pay Per View and Online Course formats. To learn more, visit JJKeller.com/123896.
About J. J. Keller & Associates, Inc.
Since its beginning as a one-man consulting firm in 1953, J. J. Keller & Associates, Inc. has grown to become the most respected name in safety and regulatory compliance. Now over 1,400 associates strong, J. J. Keller serves over 600,000 customers — including over 90% of the Fortune 1000® companies. The company's subject-matter expertise spans nearly 1,500 topics, and its diverse solutions include ELogs and mobile technology; training via online courses, streaming video or DVD; online management tools; managed services; consulting services; online and print publications; forms and supplies.
Transportation professionals rely on J. J. Keller's in-house expertise and wide selection of products and services to reduce risk and improve regulatory compliance, performance management, and operational efficiency. For more information, visit JJKeller.com.
For more information, contact:
Tom Hines
Director of Creative & Promotions
J. J. Keller & Associates, Inc.
1-800-843-3174
Email: thines@jjkeller.com