Back to Press Releases
FOR IMMEDIATE RELEASE (November 19, 2019)
New J.J. Keller Services Help Carriers Manage Vehicle Legalization and Compliance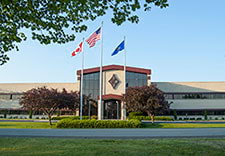 Neenah, WI — "To say that complying with vehicle registration, authority, and tax filing requirements is a major headache for fleets would be an understatement." That's the observation of Connie Owen, regulatory business advisor at J.J. Keller & Associates, Inc., who has spent the past 40 years helping fleets manage compliance.
"Unlike qualifying drivers, qualifying or properly registering vehicles requires more than gathering documents and completing a checklist," said Owen. "You have to look at multiple factors in your operation, as well as understand and adhere to the legal requirements each state imposes on your commercial motor vehicles."
To simplify these complex processes, J.J. Keller has introduced several new vehicle legalization and advisory services to their portfolio of vehicle compliance services. Designed for fleets that want short-term help without a long-term contract, the services include assistance in ensuring compliance with the International Fuel Tax Agreement (IFTA), International Registration Plan (IRP) and intrastate authority, in addition to assistance ensuring proper vehicle titles and registration.
"The risk for fleets handling these tasks on their own is that it's so easy to make a costly mistake," added Owen. "With our new services, companies can now come to us as a one-stop shop for everything from vehicle taxes, titling, registration and licensing to temporary permits and DOT authority services."
For more information about J.J. Keller's vehicle compliance services, visit JJKeller.com/VehicleServices or call 888-473-4638.
About J. J. Keller & Associates, Inc.
J. J. Keller & Associates, Inc. is the most respected name in safety and regulatory compliance. Since its beginning as a one-man consulting firm in 1953, the company has grown to over 1,400 associates serving more than 600,000 customers — including over 90% of the Fortune 1000® companies. With subject-matter expertise spanning a multitude of industries and regulatory agencies, the company offers consulting and managed services for fleet and transportation, workplace safety and environmental, and human resources. In addition to these professional services, J. J. Keller also offers electronic logging devices, training, online management tools, publications, and forms and supplies. For more information on how to reduce risk and improve regulatory compliance, visit JJKeller.com.
For more information, contact: