Back to Press Releases
FOR IMMEDIATE RELEASE (February 19, 2019)
New J.J. Keller Service Makes It Easier for New Carriers to Achieve Compliance
The New Entrant Compliance Program from J.J. Keller & Associates, Inc. helps new carriers establish their required DOT compliance program.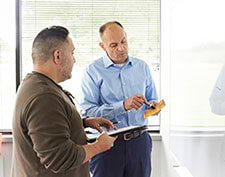 Neenah, WI - Due to the number and complexity of DOT regulations, becoming a new motor carrier isn't for the faint of heart. To streamline the process of getting started, J. J. Keller & Associates, Inc. has introduced its New Entrant Compliance Program.
"All new interstate motor carriers are part of FMCSA's New Entrant Program for 18 months following registration and receipt of a U.S. DOT number, and must complete a safety audit between the first six and 18 months of operation," explained Steve Murray, vice president of consulting services at J.J. Keller. "Our new service provides these carriers with a J. J. Keller® Consultant who will assist them through the entire process, from attaining their U.S. DOT number to developing a compliance program that will help them pass their safety audit and run a safe operation for years to come."
As part of the New Entrant Compliance Program, a J. J. Keller® Consultant will obtain the proper operating credentials for the carrier, help establish a driver qualification filing system, conduct vehicle inspections, help establish a drug and alcohol testing program, explain the hours-of-service and supporting documents requirements, and more.
"This service is tailored to the needs of each carrier in order to address their potential risk areas," added Murray. "This is critical because failing the safety audit, or operating with a Conditional or Unsatisfactory rating, can result in the carrier's operating authority being suspended or revoked. And that could lead to a loss of customers and higher insurance premiums."
For more information about J. J. Keller's New Entrant Compliance Program, visit https://www.jjkeller.com/shop/Product/New-Entrant-Compliance-Program or call 888-473-4638.
About J. J. Keller & Associates, Inc.
Since its beginning as a one-man consulting firm in 1953, J. J. Keller & Associates, Inc. has grown to become the most respected name in safety and regulatory compliance. Now over 1,400 associates strong, J. J. Keller serves over 600,000 customers — including over 90% of Fortune 1000® companies. With subject-matter expertise spanning a multitude of industries and regulatory agencies, the company offers consulting and managed services for fleet and transportation, workplace safety and environmental, and human resources. In addition to these professional services, J. J. Keller also offers electronic logging devices, training, online management tools, publications, and forms and supplies. For more information on how to reduce risk and improve regulatory compliance, visit JJKeller.com.
For more information, contact: