Back to Press Releases
FOR IMMEDIATE RELEASE (December 15, 2020)
New J. J. Keller Resource Helps Carriers Create Safety Program
Free Compliance e-Book Equips Fleets with Competitive Advantage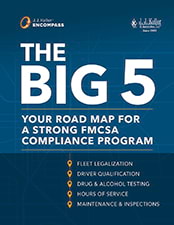 Neenah, WI - While many carriers struggle to keep FMCSA compliance as a primary focus, the most successful ones actually leverage their safety program as a means to protect profits and ensure a smooth, responsive operation. Mark Schedler, Sr. Editor for J. J. Keller & Associates, Inc., and author of the new e-Book, The Big 5: Your Road Map for a Strong FMCSA Compliance Program, has witnessed this personally. "As a carrier, your every effort to meet FMCSA safety requirements ensures your fleet's longevity through the protection of bottom-line profits that result from reduced risk and liability."
The new complementary 29-page e-Book offers fleet managers the benefit of Schedler's 25+ years of industry experience through his best practices, hands-on solutions, and identification of top violations and risks. It includes an overview of DOT rules for these top five FMCSA regulatory areas:
Fleet legalization,
Driver qualification,
Drug and alcohol testing,
Hours of service, and
Vehicle maintenance and inspections

.
"It's a critical time for carriers to ensure the compliance of their safety programs," emphasizes Tom Reader, director of ELD marketing at J. J. Keller & Associates, Inc. "As technology continues to increase the visibility of data between carriers, drivers, customers, and enforcement, the management of risk becomes the fine line of competitive advantage. This new guidance will help fleets claim their advantage through FMCSA compliance and best practices."
The new e-Book is available for download.
About J. J. Keller & Associates, Inc.
Since its beginning as a one-man consulting firm in 1953, J. J. Keller & Associates, Inc. has grown to become the most respected name in safety and regulatory compliance. Now over 1,500 associates strong, J. J. Keller serves over 500,000 customers — including over 90% of the Fortune 1000® companies. The company's subject-matter expertise spans nearly 1,500 topics, and its diverse solutions include ELogs and mobile technology; training via online courses, streaming video or DVD; online management tools; managed services; consulting services; online and print publications; forms and supplies.
Transportation professionals rely on J. J. Keller's in-house expertise and wide selection of products and services to reduce risk and improve regulatory compliance, performance management, and operational efficiency. For more information, visit JJKeller.com.
For more information, contact: