Back to Press Releases
FOR IMMEDIATE RELEASE (April 25, 2019)
New J.J. Keller In-Cab Video Technology Advances Fleet Safety
Artificial intelligence detects driving events, provides trends and recommends coaching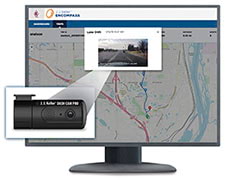 Neenah, WI - The J.J. Keller® Encompass® Video Event Management and Dash Cam Pro are now available — and fleets are taking notice.
Using artificial intelligence to detect and record dangerous driving behavior in combination with the advanced reporting and diagnostic capabilities of J.J. Keller's proven compliance dashboard, the platform offers an end-to-end solution for fleets interested in improving driver behaviors that will result in better CSA scores and safer highways.
"This is one of many substantial new product and service releases for the Encompass® Fleet Management System in 2019," said Tom Reader, senior director of marketing at J.J. Keller & Associates, Inc. "We're excited to continue offering technologies and advisory tools our customers depend on to improve performance and make informed safety decisions for their fleets."
Beyond using dash cam technology to capture video footage of events and accidents, fleets can use the data provided to build better coaching programs, exonerate innocent drivers, and reward drivers for good behavior. The robust compliance dashboard allows companies to perform queries by overall fleet performance and by driver, including:
Top drivers: Drivers with the lowest incident rates
Event rates and trends: Frequency of driving behaviors
Coaching required: Drivers with events
Additional product information is available at KellerEncompass.com/Dash-Cam-Pro.
About J.J. Keller & Associates, Inc.
J. J. Keller & Associates, Inc. is the most respected name in safety and regulatory compliance. Since its beginning as a one-man consulting firm in 1953, the company has grown to over 1,400 associates serving more than 600,000 customers — including over 90% of the Fortune 1000® companies. The company's subject-matter expertise spans nearly 1,500 topics, and its diverse solutions include ELogs and mobile technology; training via online courses, streaming video or DVD; online management tools; managed services; consulting services; online and print publications; forms and supplies.
Transportation professionals rely on J. J. Keller's in-house expertise and wide selection of products and services to reduce risk and improve regulatory compliance, performance management, and operational efficiency. For more information, visit JJKeller.com
For more information, contact: