Back to Press Releases
FOR IMMEDIATE RELEASE (October 17, 2018)
New J. J. Keller® Consultant Helps Fleets Improve Safety and Compliance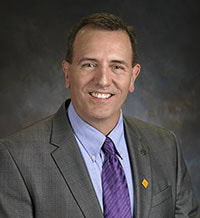 Neenah, WI - Fleets looking to improve driver safety and compliance with the Department of Transportation (DOT) regulations can now turn to Senior Safety Consultant Anthony Hargis, CTP, who recently joined J. J. Keller & Associates, Inc.
Hargis brings over 25 years of experience to J. J. Keller® Consulting Services clients. This includes expertise in improving safety and operations using Six Sigma tools, mitigating regulatory risk, and implementing safety management systems.
Prior to joining J. J. Keller, Hargis served as National Director of Safety for the National Waste & Recycling Association and was also the Corporate Transportation and Fleet Safety & Compliance Manager for Coca-Cola Refreshments, among other roles.
"Anthony is a tremendous asset to our consulting team and to our clients," said Steve Murray, vice president of editorial and consulting services at J. J. Keller. "His background in the transport industry combined with his knowledge of safety, compliance and operations management make him an ideal source of insights and guidance for any fleet."
More information about J. J. Keller's DOT Consulting Services can be found at JJKeller.com/DOTconsulting or by calling 888-473-4638.
About J. J. Keller & Associates, Inc.
Since its beginning as a one-man consulting firm in 1953, J. J. Keller & Associates, Inc. has grown to become the most respected name in safety and regulatory compliance. Now over 1,400 associates strong, J. J. Keller serves over 600,000 customers — including over 90% of Fortune 1000® companies. With subject-matter expertise spanning a multitude of industries and regulatory agencies, the company offers consulting and managed services for fleet and transportation, workplace safety and environmental, and human resources. In addition to these professional services, J. J. Keller also offers electronic logging devices, training, online management tools, publications, and forms and supplies. For more information on how to reduce risk and improve regulatory compliance, visit www.jjkeller.com.
For more information, contact: