Back to Press Releases
FOR IMMEDIATE RELEASE (July 9, 2018)
New Forklift Training From J. J. Keller Helps Companies Satisfy OSHA Requirements, Prevent Injuries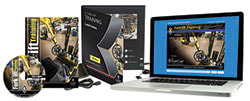 Neenah, WI - Though widespread throughout industry, forklifts are four tons of rolling steel that can cause serious injury or even death when not maintained and used properly. In fact, forklifts and similar powered industrial trucks resulted in 11,000 injuries involving days away from work in 2016. (Bureau of Labor Statistics) That's why OSHA requires forklift safety training, and J. J. Keller & Associates, Inc. developed its new Forklift Training program, to give companies contemporary, up-to-date training on this critical safety topic.
Forklift Training is available as a two-in-one English/Spanish DVD program or Video Training Book, as well as a Pay Per View Video or Online Course in English or Spanish. The program will help companies meet classroom and practical training requirements (29 CFR 1910.178(l)), while teaching operators how to choose, inspect, and safely operate a forklift. In addition to the main video, the program includes three bonus videos: Specialized Units and Attachments, Non-Operator Safety, and Refresher training.
"Many employers struggle with finding tools to help them demonstrate the complex principles operators need to understand to safely operate a forklift," said Travis Rhoden, senior workplace safety editor at J. J. Keller & Associates, Inc. "Concepts such as the 'stability triangle' and 'line of action' can be difficult to grasp. The Forklift Training program uses high-impact animation and graphics, along with real-world examples, to help trainers more effectively teach operators these types of concepts."
To learn more, visit JJKeller.com/200491.
About J. J. Keller & Associates, Inc.
Since its beginning as a one-man consulting firm in 1953, J. J. Keller & Associates, Inc. has grown to become the most respected name in safety and regulatory compliance. Now over 1,400 associates strong, J. J. Keller serves over 600,000 customers — including over 90% of the Fortune 1000® companies. The company's subject-matter expertise spans nearly 1,500 topics, and its diverse solutions include ELogs and mobile technology; training via online courses, streaming video or DVD; online management tools; managed services; consulting services; online and print publications; forms and supplies.
Safety professionals rely on J. J. Keller's in-house expertise and wide selection of products and services to reduce risk and improve regulatory compliance, performance management, and operational efficiency. For more information, JJKeller.com.
For more information, contact: