Back to Press Releases
FOR IMMEDIATE RELEASE (March 21, 2017)
New Compliance Library From J. J. Keller & Associates, Inc. Helps Professionals Navigate Today's Most Complex Regulations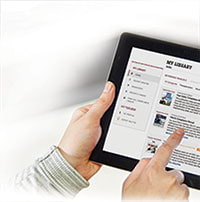 Neenah, WI - J. J. Keller & Associates, Inc., the nation's leading provider of safety and compliance solutions, has launched the new J. J. Keller® Compliance Library to help professionals keep their companies safe and compliant.
The J. J. Keller® Compliance Library provides secure, centralized online access to all of J. J. Keller's publications from any desktop or mobile device. Subscribers can build an online library that provides thorough regulatory coverage of OSHA, DOT, EPA, DOL and other agencies to maintain their compliance programs. The library's manuals help professionals understand today's most pressing compliance topics, while the newsletters provide the latest regulatory updates and timely industry news.
Key features of the Compliance Library include bonus content such as interactive checklists, safety plan templates, and forms, as well as Expert Help, an enhanced feature that provides direct access to J. J. Keller® regulatory experts for answers to users' specific compliance questions.
"Another important feature of the Compliance Library is its up-to-date content," said Katy Diekfuss, senior director of marketing at J. J. Keller & Associates, Inc. "This gives subscribers peace of mind that they are always accessing current compliance information. Our in-house experts stay abreast of regulatory changes in the highly regulated areas of transportation, workplace safety, and human resources and revise the content as needed."
Professionals can use the Compliance Library to find out which regulations apply to their operations, understand how to comply, stay current on industry news, and support their training programs.
For more information, visit JJKellerLibrary.com.
About J. J. Keller & Associates, Inc.
Serving more than 600,000 customers, including 90% of the Fortune 1000® companies, J. J. Keller & Associates, Inc. is the nation's leading provider of regulatory, safety and compliance solutions. Organizations of all sizes rely on our expert insights to help create safe work environments and simplify the complexities of regulatory compliance. Our diversified portfolio of solutions and services including online management tools, publications, training, forms, supplies, consulting and professional services is trusted to safeguard workers, reduce risk and build operational confidence. As a privately-held, family-owned company since 1953, we are committed to helping protect lives every day. JJKeller.com.
For more information, contact:
Mary Borsecnik
Corporate Marketing Communications Specialist
J. J. Keller & Associates, Inc.
1-800-843-3174, ext. 7050
Email: mborsecnik@jjkeller.com