Back to Press Releases
FOR IMMEDIATE RELEASE (August 13, 2019)
New App Simplifies Driver Qualification File Compliance
J.J. Keller & Associates, Inc. enhances its driver qualification services with new Documents app for drivers.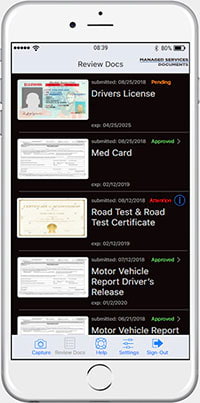 Neenah, WI - One of the most time-consuming parts of managing driver qualification is collecting the required documents from drivers and tracking when credentials are coming due. To simplify this process, J.J. Keller & Associates, Inc. has introduced the new Documents app for clients of their driver qualification services.
Using the Document in-app camera, drivers take a photo of their documents — including items such as driver's licenses and medical cards — and securely send them directly to J.J. Keller for complete DQ file management. The app then provides drivers with the real-time status of documents pending transmission, received, accepted or in need of attention.
"With this app, we can also alert drivers and their fleet managers of credentials coming due," said Shaun Gunderson, vice president of managed services at J.J. Keller. "This helps keep DQ files current and in compliance without fleet managers having to do all the work of tracking down the documents themselves."
The Documents app can be used by the drivers of clients using any of J.J. Keller's driver qualification services, including Driver Qualification File Management, Non-Regulated Driver Qualification File Management, and Driver Qualification File Audit.
"Allowing drivers a way to participate in their own DQ compliance provides fleet managers with a stress-free way to address driver qualification," added Gunderson.
For more information about J.J. Keller's Documents app, visit JJKeller.com/DocumentsApp or call 888-473-4638.
About J. J. Keller & Associates, Inc.
J. J. Keller & Associates, Inc. is the most respected name in safety and regulatory compliance. Since its beginning as a one-man consulting firm in 1953, the company has grown to over 1,400 associates serving more than 600,000 customers — including over 90% of the Fortune 1000® companies. The company's subject-matter expertise spans nearly 1,500 topics, and its diverse solutions include ELogs and mobile technology; training via online courses, streaming video or DVD; online management tools; managed services; consulting services; online and print publications; forms and supplies.
Transportation professionals rely on J. J. Keller's in-house expertise and wide selection of products and services to reduce risk and improve regulatory compliance, performance management, and operational efficiency. For more information, visit www.jjkeller.com.
For more information, contact:
Becca Brown, Marketing Communications Specialist
J. J. Keller & Associates, Inc.
1-920-967-7050
Email: rbrown@jjkeller.com