Back to Press Releases
FOR IMMEDIATE RELEASE (January 22, 2019)
New App Eliminates Hassle of Paper DVIRs for Mixed Fleets and Non-Regulated Drivers
J.J. Keller® Encompass® DVIR provides customizable inspection options for all vehicle types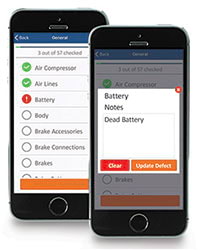 Neenah, WI - J.J. Keller & Associates, Inc. has expanded its Fleet Management System to accommodate even more drivers and vehicle types with a new Driver Vehicle Inspection Report (DVIR) app. In addition to the Encompass® ELD app geared toward hours-of-service regulated fleets, the new app provides a standalone DVIR option for non-regulated drivers and mixed fleets who want to streamline the vehicle inspection process.
Included for all Encompass® Fleet Management System subscribers, the DVIR app requires no ELD hardware and allows users to create customized inspection criteria for any type of equipment or vehicle, including refrigerated trailers, bulk haulers, school buses and specialty rigs.
"The ability to create an inspection report specific to any vehicle or equipment type can prove invaluable for a busy fleet," said Tom Reader, senior director of marketing at J.J. Keller. "With the new DVIR app, fleets can easily create a company-specific inspection checklist, make it available for drivers to download and use for pre- and post-trip inspections, and capture all inspection data in Encompass via the cloud."
Supported through a robust back office interface, the app improves fleet communication by elevating defects and allowing for timely resolution and recordkeeping. It also includes a timesheet functionality for users to clock in and out during the day, as well as review and edit time for previous days.
About J.J. Keller & Associates, Inc.
Since its beginning as a one-man consulting firm in 1953, J. J. Keller & Associates, Inc. has grown to become the most respected name in safety and regulatory compliance. Now over 1,400 associates strong, J. J. Keller serves over 600,000 customers — including over 90% of the Fortune 1000® companies. The company's subject-matter expertise spans nearly 1,500 topics, and its diverse solutions include ELogs and mobile technology; training via online courses, streaming video or DVD; online management tools; managed services; consulting services; online and print publications; forms and supplies.
Transportation professionals rely on J. J. Keller's in-house expertise and wide selection of products and services to reduce risk and improve regulatory compliance, performance management, and operational efficiency. For more information, visit KellerEncompass.com.
For more information, contact: