Back to Press Releases
FOR IMMEDIATE RELEASE (January 8, 2019)
Most Active Shooter Events Are Over Before Law Enforcement Arrives
J.J. Keller Empowers Employees to Take Charge of Their Own Safety with New Training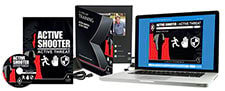 Neenah, WI - The FBI reported 30 active shooter incidents in 2017, the highest number ever recorded in a one-year period.
With nearly half (42%) of incidents between 2000 and 2017 taking place at businesses or areas of commerce, and the majority of them ending before law enforcement arrived, it's critical that employers are prepared for the unthinkable. J.J. Keller's new Active Shooter/Active Threat training will help employees at all levels recognize warning signs and learn how to protect themselves against workplace threats.
"Active shooter training sounds like a scary subject, but being unprepared is even scarier," said Ann Potratz, J.J. Keller subject-matter expert. "Employers have a responsibility to provide employees with a safe workplace, and this type of training helps empower employees to identify threats before they occur and to take safety into their own hands."
Active Shooter/Active Threat was developed alongside several law enforcement experts and safety professionals, and incorporates the latest suggestions and findings from the Department of Homeland Security, the FBI, and local agencies. The training is comprised of two separate programs:
How To Survive helps employees anticipate and recognize active shooter situations and respond appropriately and immediately if they are faced with one. It covers the warning signs of workplace violence, preparing for an active threat, and the best course of action to take (avoid, deny, defend).
Organizational Preparedness & Recovery helps Human Resources, safety management, and Emergency Response Team members prepare their company for an active shooter incident as well as recover from the tragedy. It covers risk assessments, an emergency action plan, practice drills, working with law enforcement, counseling and communication.
Active Shooter/Active Threat is available in English and Spanish in the following formats: DVD, Video Training Book, Pay Per View, and Online Training Course. Visit JJKeller.com/203272 for more information.
About J.J. Keller & Associates, Inc.
Serving more than 600,000 customers, including 90% of the Fortune 1000® companies, J.J. Keller & Associates, Inc. is the nation's leading provider of regulatory, safety and compliance solutions. Organizations of all sizes rely on our expert insights to help create safe work environments and simplify the complexities of regulatory compliance. Our diversified portfolio of solutions and services including online management tools, publications, training, forms, supplies, consulting and professional services is trusted to safeguard workers, reduce risk and build operational confidence. As a privately-held, family-owned company since 1953, we are committed to helping protect lives every day. www.jjkeller.com.
For more information, contact: