Lockout/Tagout
OSHA's standard on the control of hazardous energy (the OSHA lockout/tagout standard) appears often on the agency's list of most violated standards. Lockout/tagout training and practice is crucial to keeping your employees safe and in compliance.
Turn to J. J. Keller to help educate and protect your employees so they understand:
When and where the standard applies
OSHA Lockout/tagout procedures for energy control
The duties of authorized, affected and other employees
The difference between lockout and tagout
The different types of procedures and lockout devices and tags that are available
How to apply best practices
See below for essential solutions and helpful resources to help your employees practice safe lockout/tagout.
Essential Lockout/Tagout Solutions
Lockout/Tagout: What's the Big Deal?
Employers are responsible for ensuring the safety of their employees when hazardous energy is involved. Those employees who service or maintain machines or equipment could be exposed to serious physical harm – or even death – if hazardous energy is not properly controlled. It's up to you to comply with OSHA's lockout/tagout standard and keep your employees safe.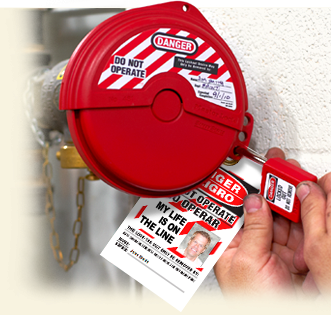 3
Million
employees who service equipment and face greatest risk
120
Fatalities
prevented each year by proper lockout/tagout
50,000
Injuries
prevented yearly due to lockout/tagout practices
24
Workdays
average days lost while recovering from hazardous energy exposure
*Information gathered from OSHA's Lockout/Tagout Fact Sheet.