Back to Press Releases
FOR IMMEDIATE RELEASE (April 7, 2020)
Keeping Remote Workers Safe and Engaged is Focus of Three New J.J. Keller Online Training Courses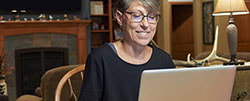 Neenah, WI - As more than 5 million U.S. employees work remotely (Source: GlobalWorkplaceAnalytics.com) and that number continues to climb, J.J. Keller & Associates, Inc. has developed three new online training courses to help companies make the most of this work arrangement.
"What makes these courses unique is that they take a holistic approach to working from home, focusing on making the arrangements healthy, productive, and compliant for each group (managers, employees, and HR)," said Ann Potratz, human resources editor at J.J. Keller.
How to Manage a Remote Team helps managers and supervisors identify the challenges involved and develop strategies to overcome them, including ways to keep employees healthy, engaged, and safe.
How to Work from Home Effectively addresses questions employees may have if they're asked to work remotely, possibly for the first time, and explains which employment laws protect them.
How to Address HR Challenges in a Dispersed Workforce prepares HR professionals to work remotely themselves as well as provide HR-related support to a remote workforce.
"Remote work is a great opportunity for employees, but it can present many unique challenges for them, their managers, and HR," said Potratz. "These programs were designed to address those challenges head-on and help make your remote workforce successful."
For more information, visit JJKellerTraining.com/208529.
About J. J. Keller & Associates, Inc.
J. J. Keller & Associates, Inc. is the nation's leading provider of regulatory, safety and compliance solutions, serving more than 600,000 customers, including 90% of the Fortune 1000® companies. Organizations of all sizes rely on our expert insights to help create safe work environments and simplify the complexities of regulatory compliance. Our diversified portfolio of solutions and services including online management tools, publications, training, forms, supplies, consulting and professional services is trusted to safeguard workers, reduce risk and build operational confidence. As a privately-held, family-owned company since 1953, we are committed to helping protect lives every day. JJKeller.com.
For more information, contact: