Back to Press Releases
FOR IMMEDIATE RELEASE (February 25, 2020)
J.J. Keller's Tier II Reporting Service Helps Companies Meet March 1 Deadline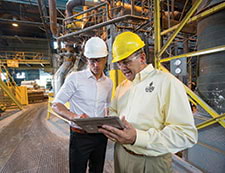 Neenah, WI - To meet the March 1, 2020, reporting deadline and avoid penalties, facilities that have one or more hazardous chemicals covered under OSHA's Hazardous Communication Standard must soon submit their Tier II forms to local fire departments, local emergency planning committees, and state emergency response commissions. The Tier II Reporting Service from J.J. Keller & Associates, Inc. helps these facilities ensure that their information is submitted accurately and on time.
"Tier II reporting is a challenge for many companies because it requires them to know the reporting chemical threshold quantities based on how hazardous a chemical is," said Steve Murray, vice president of editorial & consulting services at J.J. Keller. "Then they're required to fill out all of the reporting elements, including facility information, chemical descriptions and constituents, chemical health hazards, and storage types and locations. But with our Tier II Reporting Service, a J.J. Keller environmental consultant will handle it all on a facility's behalf to meet the deadline and help avoid penalties."
Tier II reporting is required under section 312 of the Emergency Planning and Community Right-to-Know Act (EPCRA) for the purpose of providing state and local officials and the public with information on the hazardous chemicals being stored in their communities.
For more information about J.J. Keller's Tier II Reporting Service, call 888-473-4638 or visit JJKeller.com/TierII.
About J.J. Keller & Associates, Inc.
Since its beginning as a one-man consulting firm in 1953, J. J. Keller & Associates, Inc. has grown to become the most respected name in safety and regulatory compliance. Now over 1,400 associates strong, J. J. Keller serves over 600,000 customers — including over 90% of Fortune 1000® companies. With subject-matter expertise spanning a multitude of industries and regulatory agencies, the company offers consulting and managed services for fleet and transportation, workplace safety and environmental, and human resources. In addition to these professional services, J. J. Keller also offers electronic logging devices, training, online management tools, publications, and forms and supplies. For more information on how to reduce risk and improve regulatory compliance, visit JJKeller.com
For more information, contact: