Back to Press Releases
FOR IMMEDIATE RELEASE (September 10, 2019)
J.J. Keller's New Trip Permits Website Simplifies Ordering Process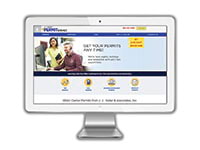 Neenah, WI - To make ordering temporary permits easier for fleets, J.J. Keller & Associates, Inc. created the new J.J. Keller® Permit Service website.
Featuring an easy-to-use ordering wizard developed specifically for the site, fleets are walked through a series of questions to help them quickly request the right type of permit based on their load and route. Formerly called Keller-Permits, the service continues to provide expert assistance from J.J. Keller's team of over 40 compliance agents, and now offers this enhanced online ordering system.
"We wanted to help fleets get the right permits even faster so they could get their trucks on the road faster, too," said Shaun Gunderson, vice president of managed services at J.J. Keller. "With this new website it's as easy as point and click to order their permit. Plus, with our state-direct agreements, we can speed up the paperwork process and greatly improve turnaround times."
According to Gunderson, the J.J. Keller® Permit Service can also securely store vehicle information and permit history to make permit reordering quick and simple for customers. And for those choosing to order their permits by phone, the service is staffed around the clock, including on weekends and holidays.
Permits offered by the service include temporary trip permits, oversize/overweight permits, fuel permits, state mileage permits and specialty permits.
For additional information about the J.J. Keller® Permit Service, visit JJKellerPermits.com or call 800-231-5266.
About J. J. Keller & Associates, Inc.
J. J. Keller & Associates, Inc. is the most respected name in safety and regulatory compliance. Since its beginning as a one-man consulting firm in 1953, the company has grown to over 1,400 associates serving more than 600,000 customers — including over 90% of the Fortune 1000® companies. With subject-matter expertise spanning a multitude of industries and regulatory agencies, the company offers consulting and managed services for fleet and transportation, workplace safety and environmental, and human resources. In addition to these professional services, J. J. Keller also offers electronic logging devices, training, online management tools, publications, and forms and supplies. For more information on how to reduce risk and improve regulatory compliance, visit www.jjkeller.com.
For more information, contact:
Susan Baranczyk, Corporate Communications
J. J. Keller & Associates, Inc.
1-920-860-5797
Email: sbaranczyk@jjkeller.com