Back to Press Releases
FOR IMMEDIATE RELEASE (January 9, 2018)
J. J. Keller & Associates, Inc. Unified Carrier Registration (UCR) Filing Service Ensures Carrier Compliance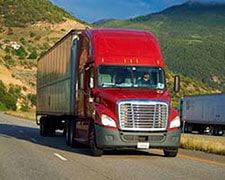 Neenah, WI - The Federal Motor Carrier Safety Administration (FMCSA) has announced the UCR renewal deadline (April 5, 2018), giving carriers just 90 days to file their renewals. J. J. Keller & Associates, Inc., the leader in transportation safety and compliance, can help carriers meet the deadline quickly and efficiently.
"UCR renewal can quickly become an organizational nightmare for carriers, but we can take care of this for them so they have one less thing to worry about," said Shaun Gunderson, vice president of managed services at J. J. Keller & Associates, Inc. "Our service representatives process UCR renewals and registrations quickly, efficiently and on time. They ensure that each carrier's UCR filing is accurate — including the vehicle count — so carriers aren't overpaying or even underpaying their UCR fees."
All interstate, for-hire property and passenger carriers, private property carriers and exempt motor carriers operating CMVs must register annually and pay a UCR fee based on the number of commercial motor vehicles they operate in interstate commerce. The fee must be paid to the carrier's base state before operating in interstate commerce.
For more information about J. J. Keller® Unified Carrier Registration (UCR) Filing Service, visit JJKeller.com/UCR or call 888-601-2017.
About J. J. Keller & Associates, Inc.
Since its beginning as a one-man consulting firm in 1953, J. J. Keller & Associates, Inc. has grown to become the most respected name in safety and regulatory compliance. Now over 1,400 associates strong, J. J. Keller serves over 600,000 customers — including over 90% of the Fortune 1000® companies. The company's subject-matter expertise spans nearly 1,500 topics, and its diverse solutions include ELogs and mobile technology; training via online courses, streaming video or DVD; online management tools; managed services; consulting services; online and print publications; forms and supplies. www.jjkeller.com. JJKeller.com.
For more information, contact:
Tom Hines
Director of Creative & Promotions
J. J. Keller & Associates, Inc.
1-800-843-3174
Email: thines@jjkeller.com